It should be noted that there had been questions about Andrew Eliot of Beverly.
Linked is some information which was researched;
Andrew Eliot Beverly, MA update
Have, a 2004 work which is out of date, but may be some of the information can be used;
In DOC form;
Daniel 2004 thoughts on Andrew
In PDF form;
Daniel-2004-thoughts-on-Andrew (1)
Mark Elliott                                                       6/17/2013
CORRECTION;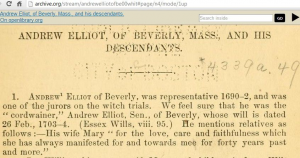 Andrew Elliot of Beverly Mass, and His Descendants does not seem to show a birth date for Andrew.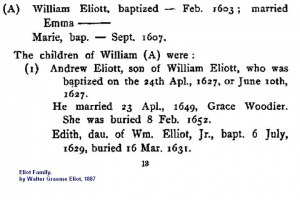 Walter  Graeme Eliot does show a baptismal date for Andrew Eliot son of Wm of 24th of April 1627.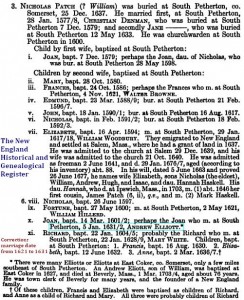 The date which needs to be corrected is the marriage date of Joan Patch, and Andrew Elliot. Though it is recorded on the web as being 1621, it is felt that 1631 is the proper date.

Because there is  proper sequencing of the numbers in the records below.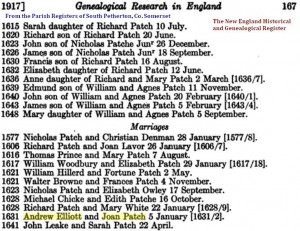 But given;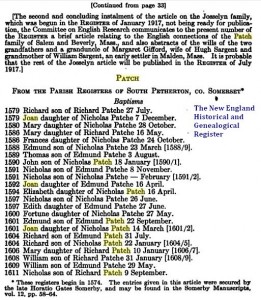 The baptismal records when she married Andrew Elliot, this would make Joan Patch about thirty.
Given that Andrew Elliot recorded as son of William, as clerk of Beverly, MA did oversee the following record for his grandson.

Quartus (IV); since the grandson is recorded as Andrew Quartus, this would make the father of Andrew Elliot, Andrew also.
Since Joan Patch married Andrew Elliot at thirty. This is felt to be Andrew's second wife. It is felt that Andrew and his first wife had an Andrew clerk of Beverly, and the first wife likely died at child birth and Andrew the clerk was adopted by William and Emma (likely uncle to Andrew), who's first son was William which traveled to Mass. on The Hercules, out of South Hampton ca1630+ and became indentured to the Laskin family, who had daughter Edith Laskin who married a Herrick which help set Andrew Elliot the Clerk up in Beverly, MA.
Mark Elliott                  correction                            11/22/2013