IT SEEMS LIKE ELLOT AND ARMSTRONG HAVE HAD A SWORD PUT IN THEIR HANDS, THOUGH THEY DID NOT START WITH THE SWORD.   An apology to the Armstrong by asking them to take the sword.
Milnholm Cross and Elwand to Sword
Correction;
The top is added;
Without it, it looks like a cross.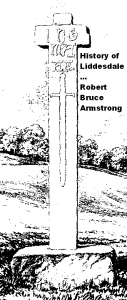 Shield is said, and not shown above is relatively new.

Robert Bruce Armstrong; History of Liddesdale…

Christogram IHS –a monogram symbol of Jesus Christ in form of an acronym. This would symbolize, I feel a burial.
R B Armstrong wrote extensively on the history of the Liddesdale region in the nineteenth century. It is felt that what is now called a Milnholm Cross is a sword, but previously to the sword it was a cross, as given in R B Armstrong's book.
Mark Elliott                                                                                           10/29/2013