The Carrothers/Carruthers, of Debatable Lands and Fermanagh also carry I-M253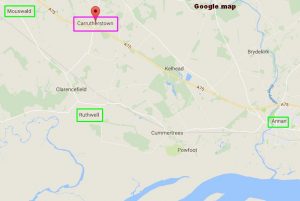 Carrutherstown, Dumfries Google map.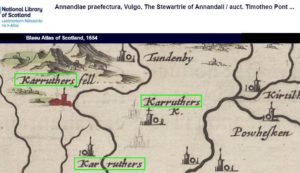 It should be noted; that in US History, a lot of black people freed from slavery would choose the name Washington, and name of a great US hero. In the same way in the region of  Karruthers-Carrutherstown, in the same pool of Y-DNA some with the Karuthers (Carruthers) Carrrutherstown, would choose to take the name of the Scotland's hero Bruce.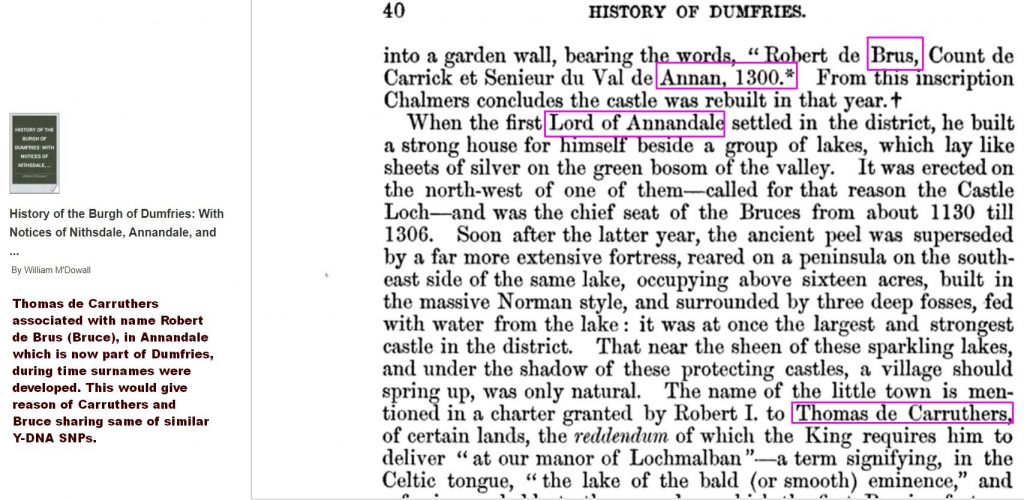 1654 in Co. Annandale, which is now of Co. Dumfries.
http://www.rampantscotland.com/clans/blclancarruthers.htm
In the 13th century, the family rose to be the hereditary stewards of Annandale under the Bruces. Nigel de Karruthers became Rector at nearby Ruthwell and rose to become Canon of Glasgow Cathedral in 1351 and was chancellor to Robert, Steward of Scotland (progenitor of the Stewart monarchs).
During time of surname adoption, which and individual "de Karruthers" from Karruthers/Carruthers, would drop the "de" and become Carruthers, or adopted the surname of the Bruce, giving the Carruther and Bruce a stemming from the same Y-DNA father.
It should be noted that Karruthers in above are of Dumbfrieshire below. added 10/15/2017 MSE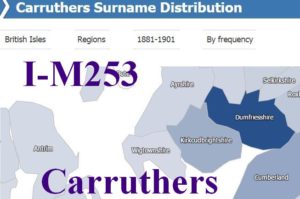 http://forebears.io/surnames/Carruthers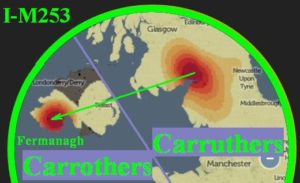 http://named.publicprofiler.org/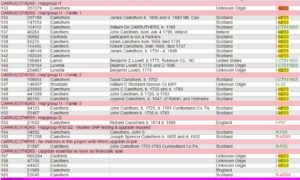 I-M253>L22>CTS11603
https://www.familytreedna.com/public/border_reiver_dna?iframe=yresults
From Carruthers of Debatable Lands to the Carrothers of Fermanagh. Predominately of I-M253, and downstream.
 De Curruthers becoming surname Curruthers;
It is felt to have been first de Curruthers, meaning; from Curruthers, the the de/from was dropped where the remainder, Curruthers became the surname.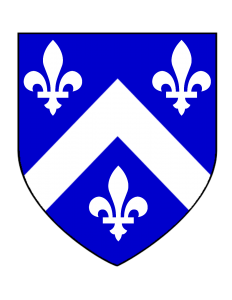 1/23/2017 updated 6/18/2017 MSE
Received in email Oct 12, 2017;
"Mark, I am enjoying this tremendously.   I have been matching up the Bruce YDNA Project to the info I have and it looks like the Bruce family is positive for the L22 and they CTS11603,  with William De Carruthers 1185 – 1245
Always another clue to another piece of the puzzle
Patti"
The name Carruthers, stemming from a single individual, and having a locality surname is extremely unique among surnames.
The name Elliott is large in numbers and has neither locality, or stemming from the same individual.
If surnames match, like Carruthers (note; need to make sure "s" is on end of name, make a difference), like Bruce, then it is extremely that those Bruce surnames where adopted from the same Y-DNA pool at the same time Carruthers, of Karruthers now Carrutherstown, UK, adopted their surname and of the same region.
10/24/2017 MSE