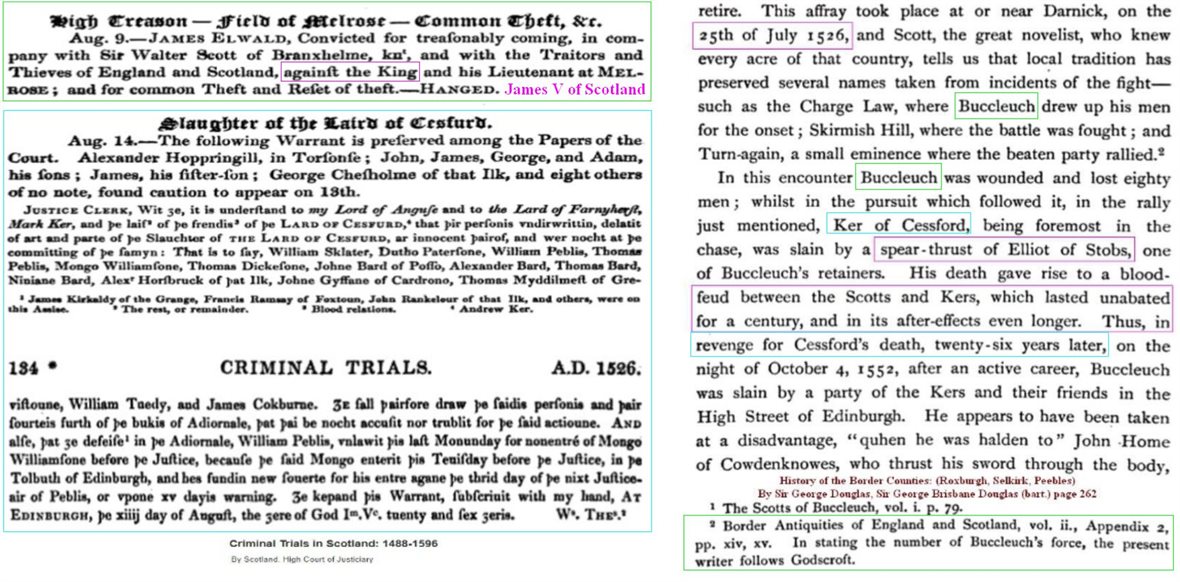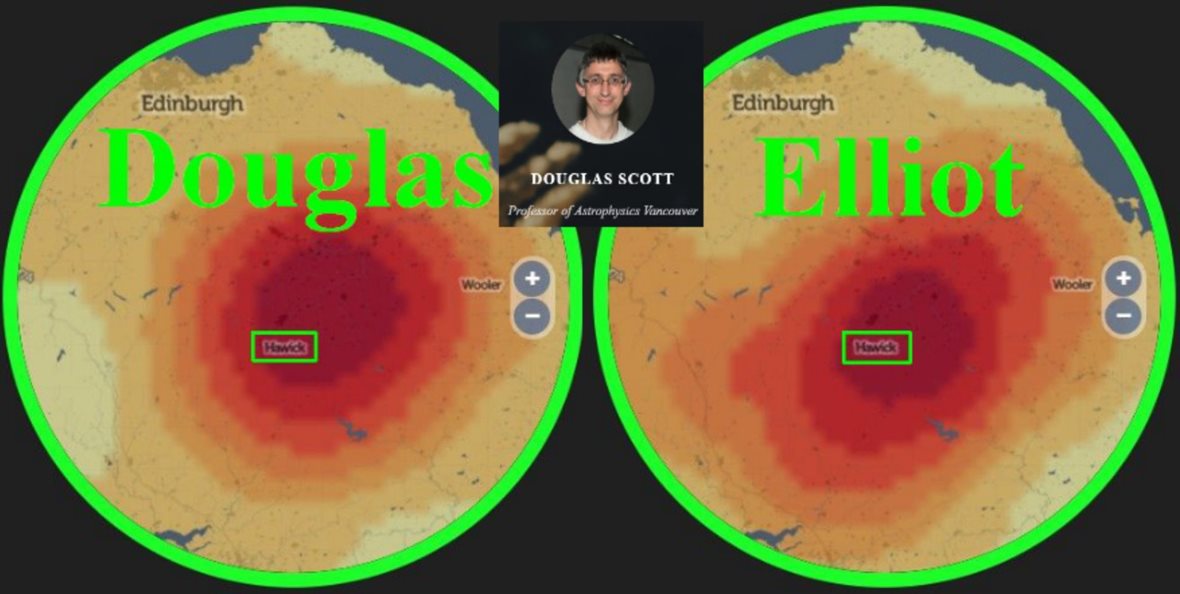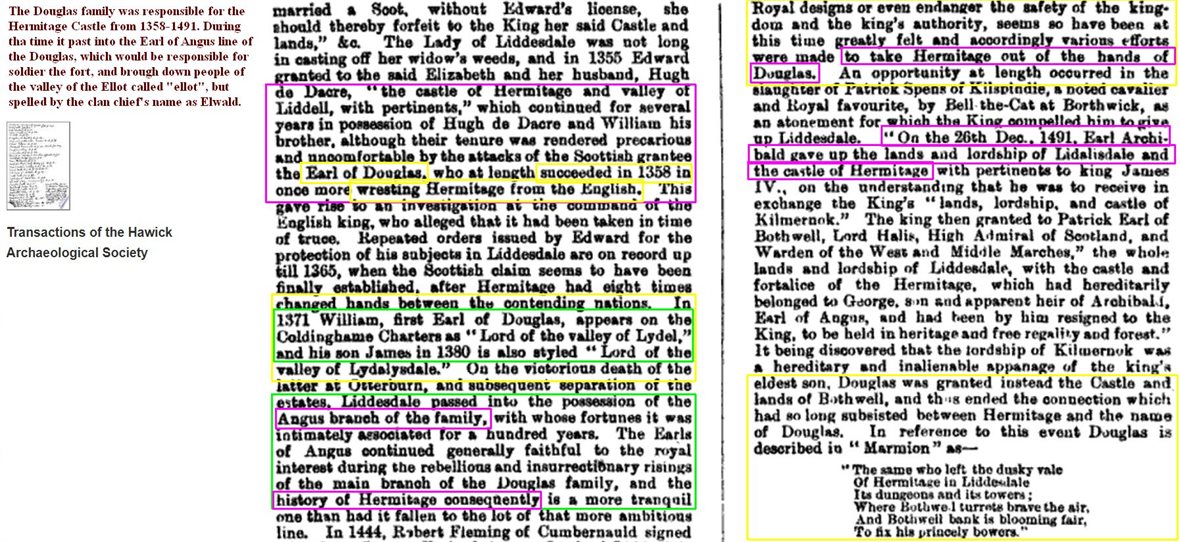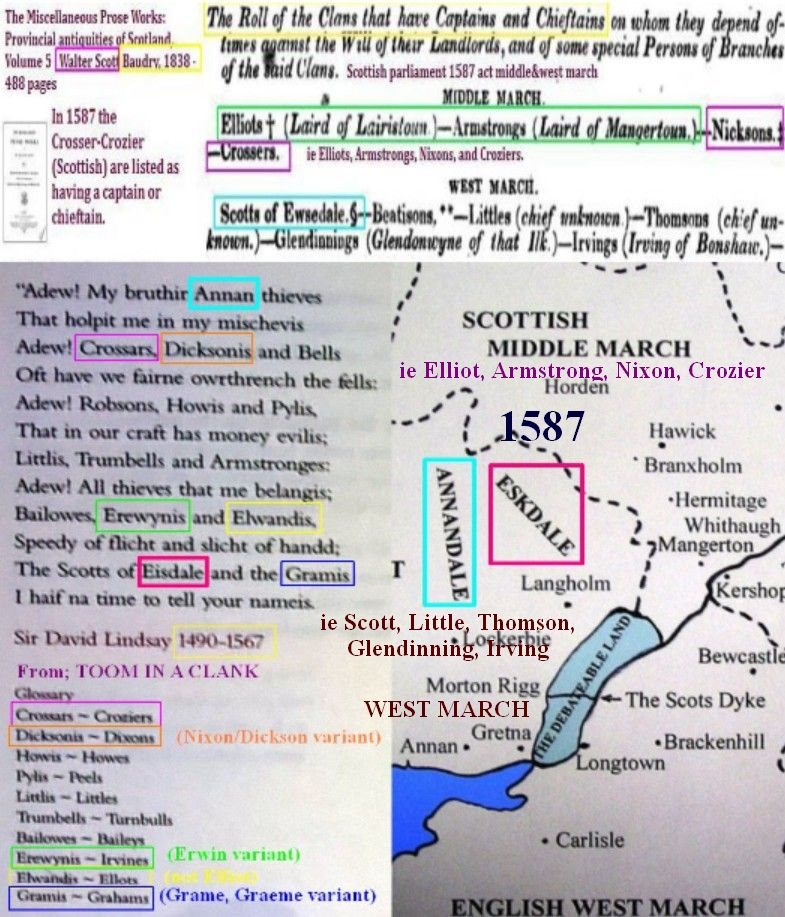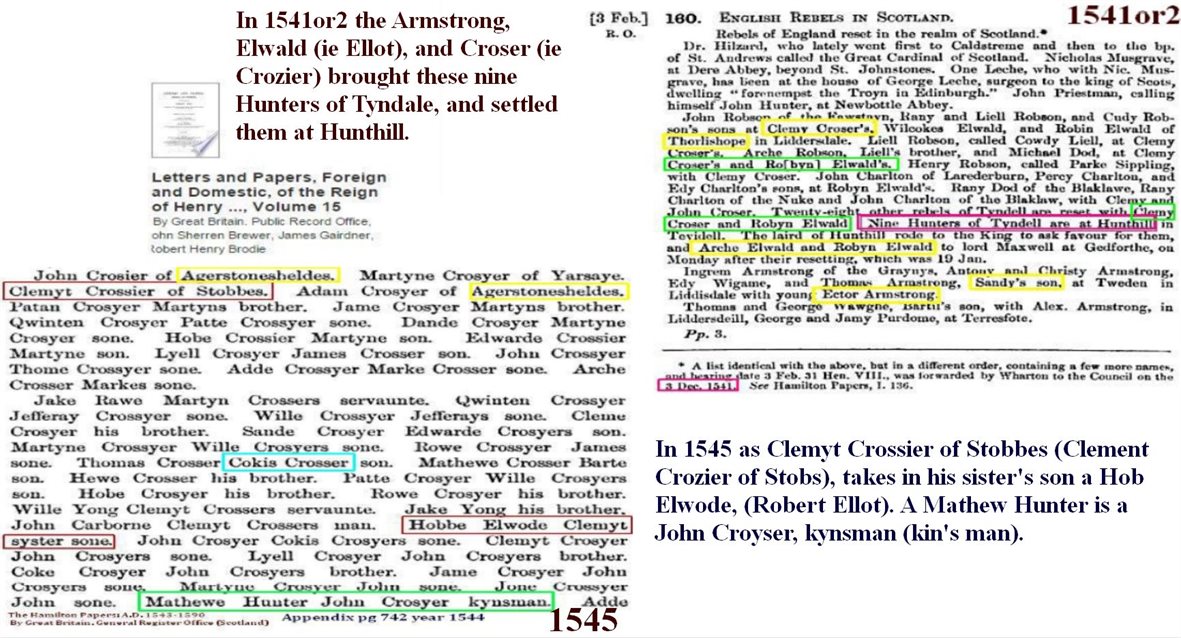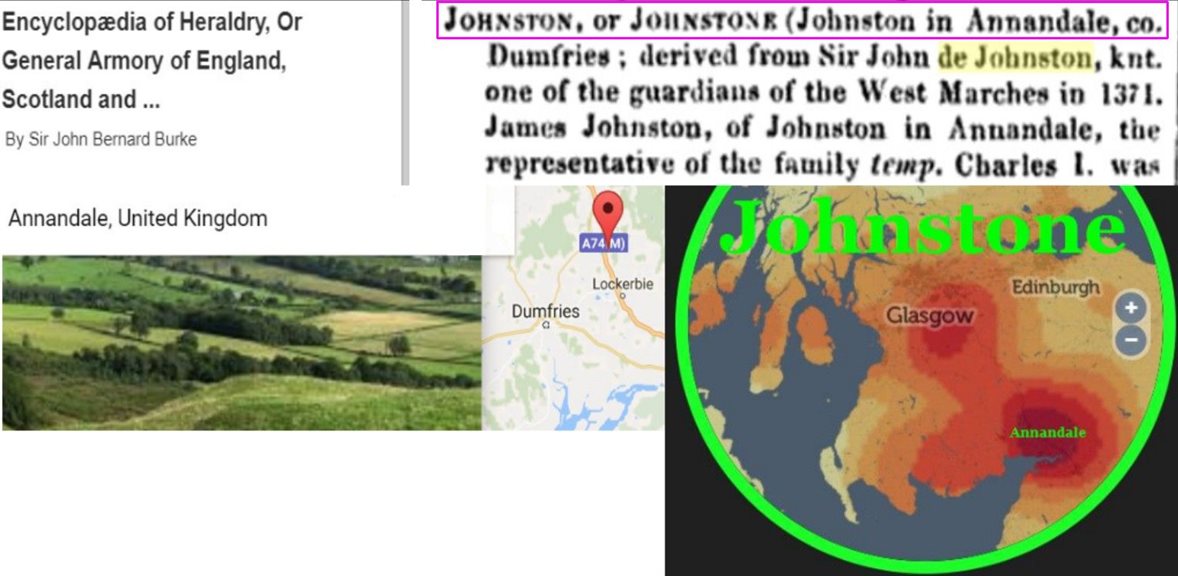 1/1/2018 MSE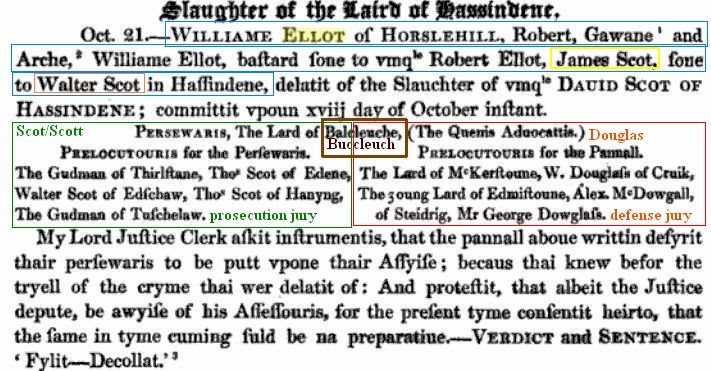 1/10/2018 MSE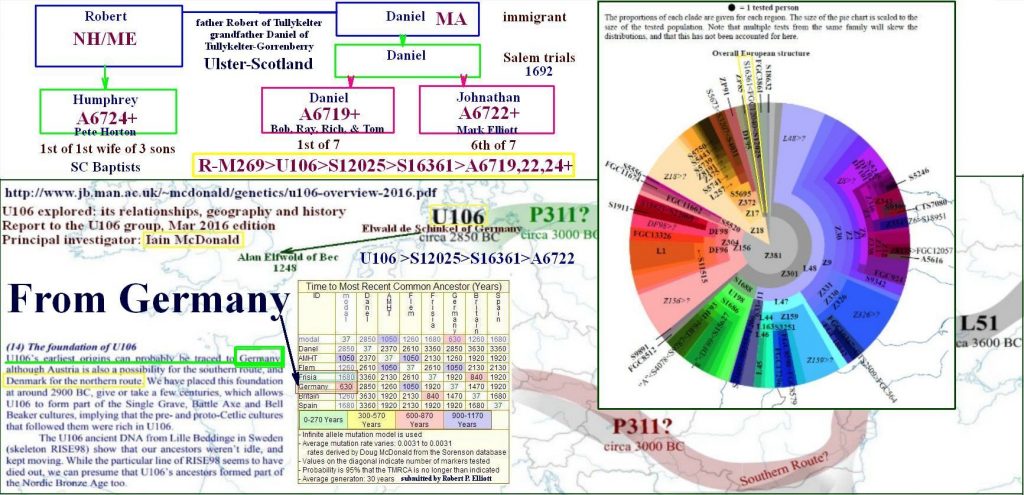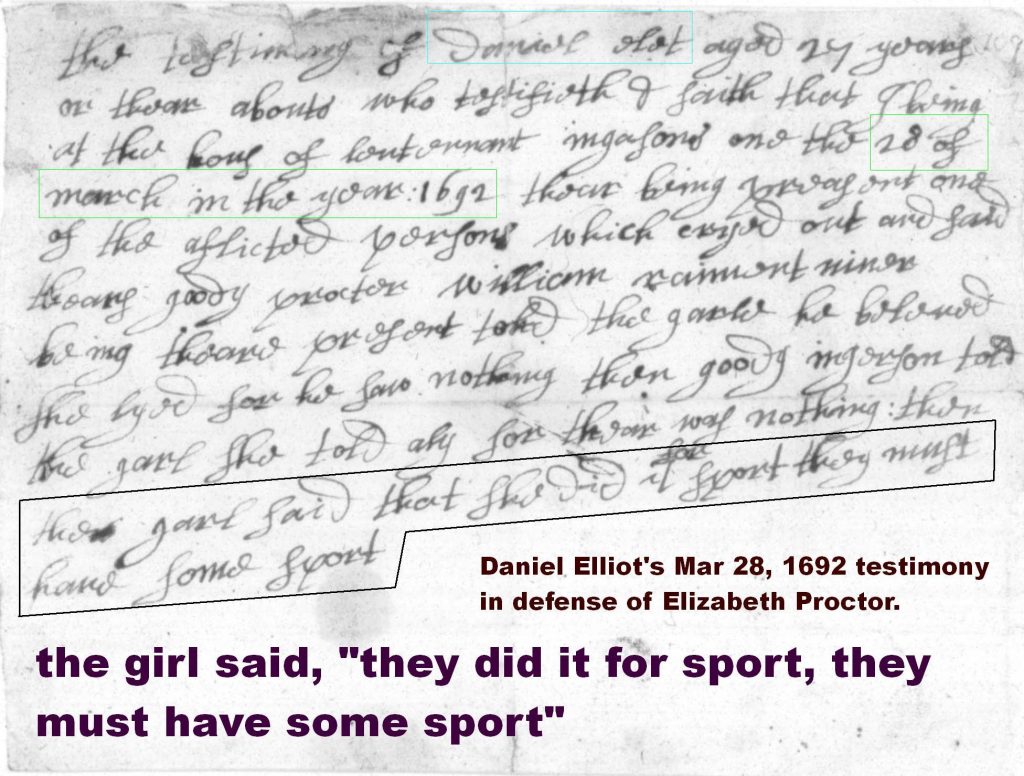 Combining genealogy, and SNP DNA, testing by FTDNA Big-Y and outside resources. One can get Big-Y results through other labs besides Family Tree DNA. Using these results to verify branch points, at documented date of Daniel Elliot of Salem Trials of March 28, 1692, for Daniels, first son Daniel, and sixth son of seven Johnathan which I am descended from, plus an older brother to Daniels father Daniel which is Robert, gives a branch point for the Boyling Rock , Portsmouth, NH, and cross river, Eliot Neck, Kittery, Maine, Baptist, which were baptized in Boston, and went down to Charles Town (Charleston) SC, and started those southern Baptize. Yes, the southern Baptize have roots in Boston, MA, with R-U106 Elliot in them.
1/12/2018 MSE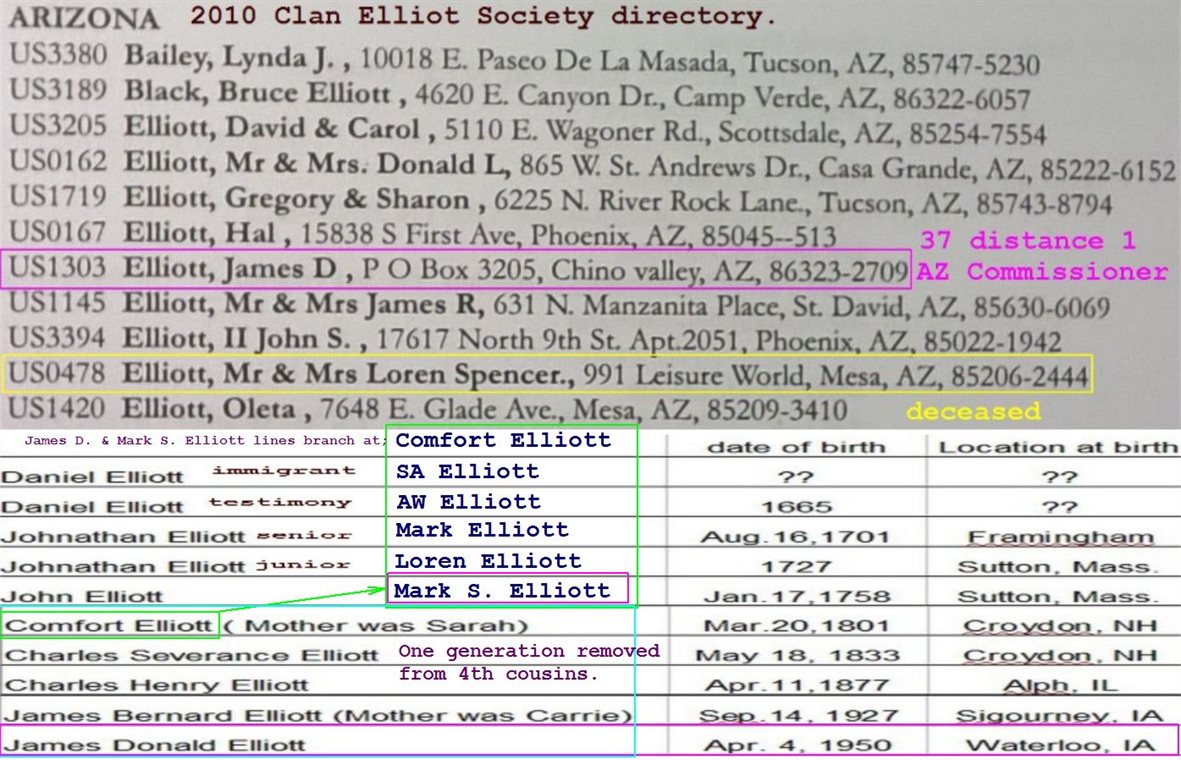 1/13/2018 MSE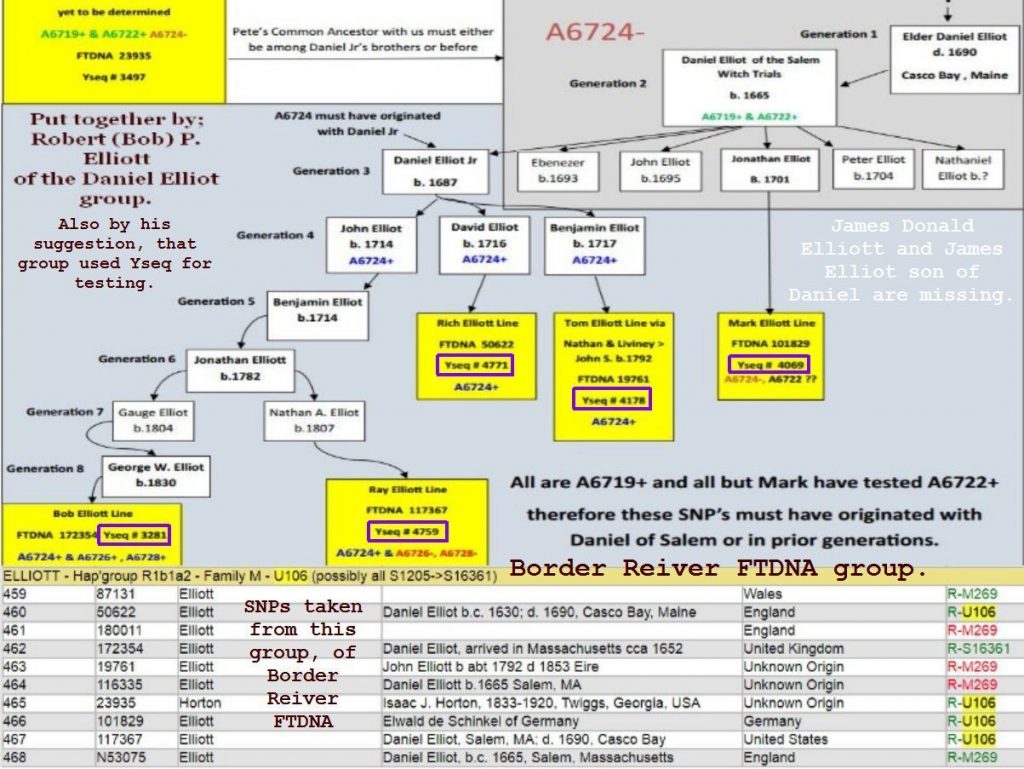 ….., this may show you from which group utilized the Yseq for their sampling, from the Border Reiver FTDNA group. FTDNA shows how far downstream these individuals were tested. Because they were suggest by tester to utilize Yseq, showing it would cost less, the results are not recorded as their FTDNA values. This would show a result of, would also be S16361 or downstream, A6719, A6722, or A6724, and for individuals such as Robert P. Elliott, and anyone overseeing FTDNA projects such as R-U106 to keep the data line out of publication. As a branch point and since I paid for the DATA, Robert P. Elliott or anyone associated to the Scotland, and, R-U106 FTDA groups as administrators or co-administrators, are not approved by me to use my data-base of over 2,000 individuals
http://www.familytreedna.com/my/family-tree/share?k=WbDsW3grHz1XjsL2GsrWhQ%3D%3D
, (it should be noted other people, not the LDS, have placed dad's recent information online. For computer security, do not give genealogical information.)or my FTDNA results, in any of their published studies until I am reinstated into the Scotland FTDNA group, and the above individuals are listed with their downstream results via Fseq testing of at least S16361, and noted that they have an equivalent for SNP testing as the Big-Y. Particularly I myself, as a family history genealogist, not a lab tester like the those administrators of R-U106 FTDNA which are acting like they are testing mice, for publication, which want the SNP information to be their own, not of those of the Daniel Testimony Group which purchase it. This is a strong indicator, that they want a monopoly of the information over other "so called" academics. It is enough to be refugees of a witch trail then to go through this corporate pseudo genealogical test from so called academics, and pay for the information because of we are family oriented. For those academics to get the full results of the data, because, we of the Daniel group were doing the study for family, by paying for the study, and not being told the results would not show up on FTDNA.
Note; Only one individual is listed with R-S16361. Who do you suppose that is?
1/15/2018 MSE
GAVE AN HONEST RESPONSE WITH DOCUMENTATION, NOW I AM NO LONGER ON BORDER REIVER FTDNA.
1/16/2018 Mark Stephen Elliott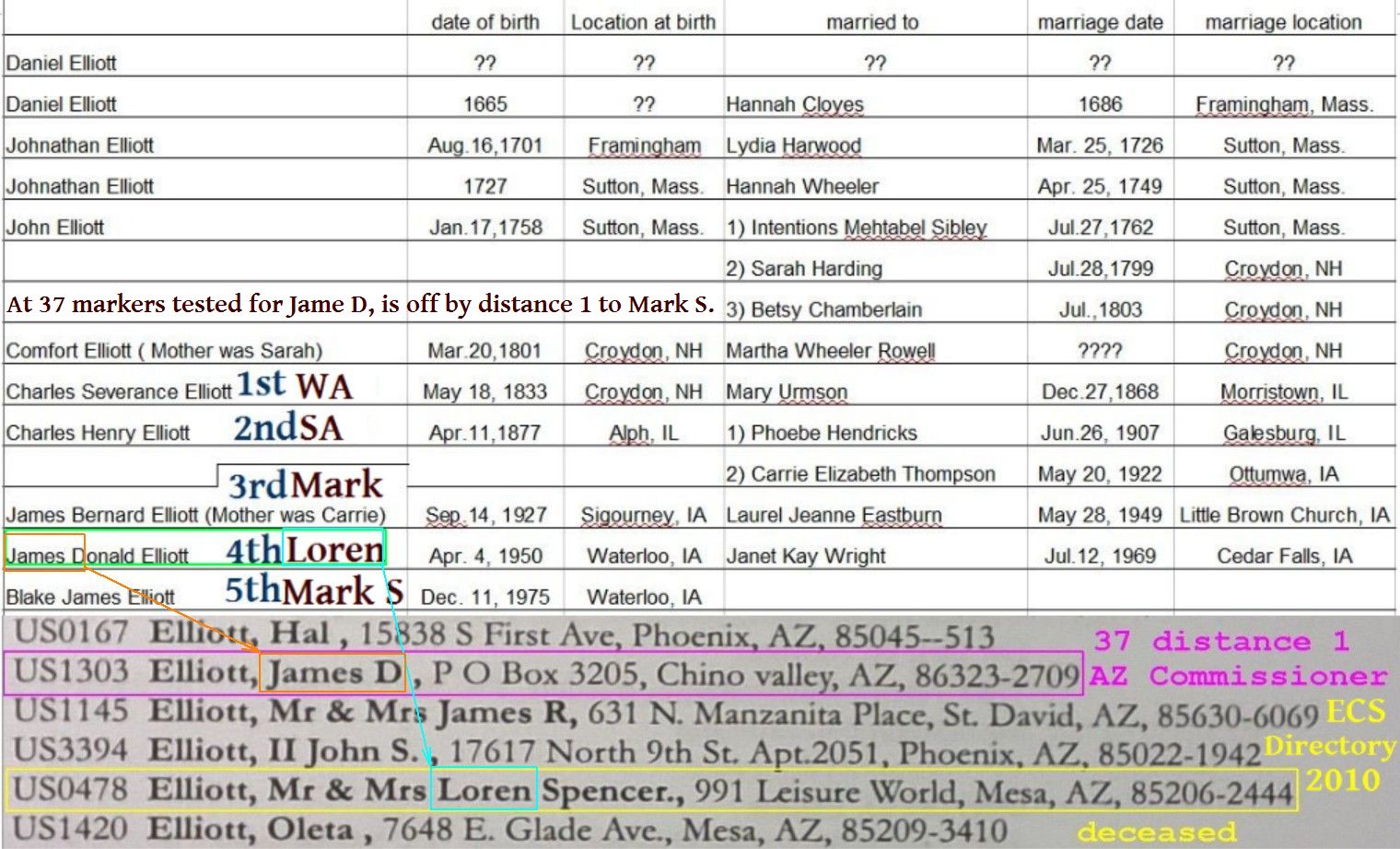 (correction 2/16/2018  AW not WA Elliott)
1/16/2018 MSE
Elwood, Ellwood, of Elwald, Elwold, Elwould
1/21/2018 MSE
1/23/2018  MSE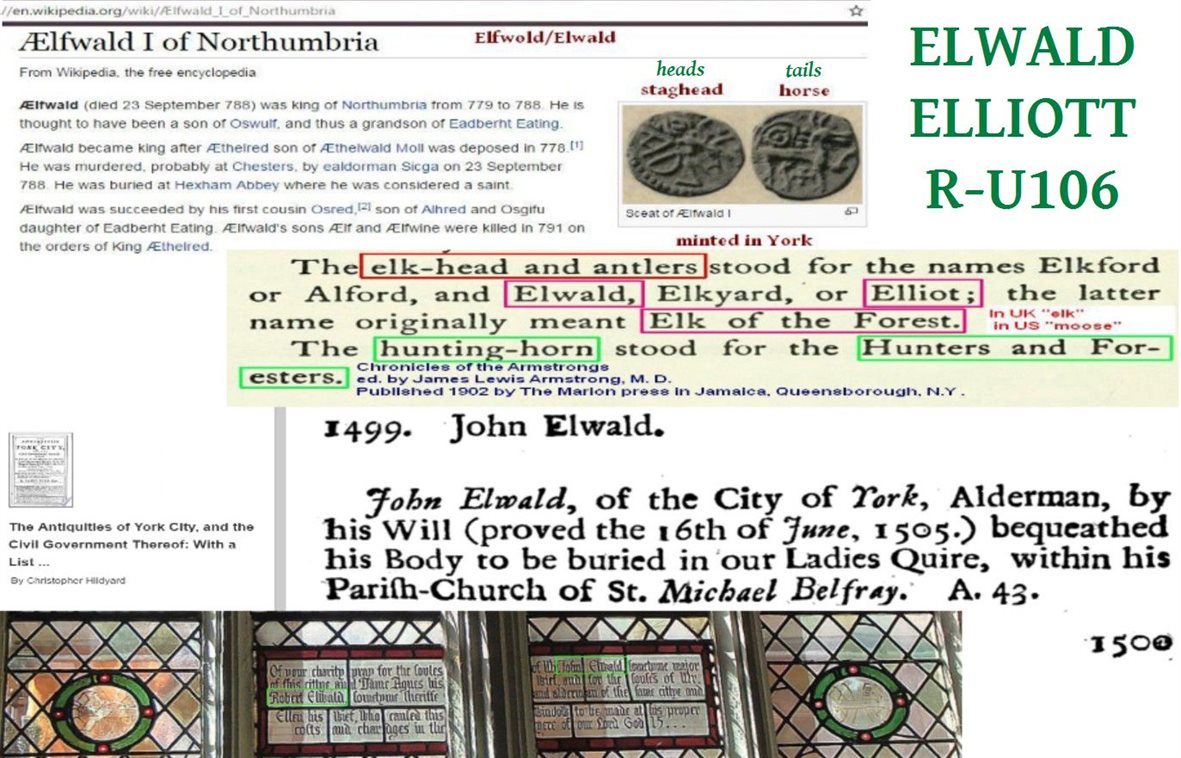 1/25/2018 MSE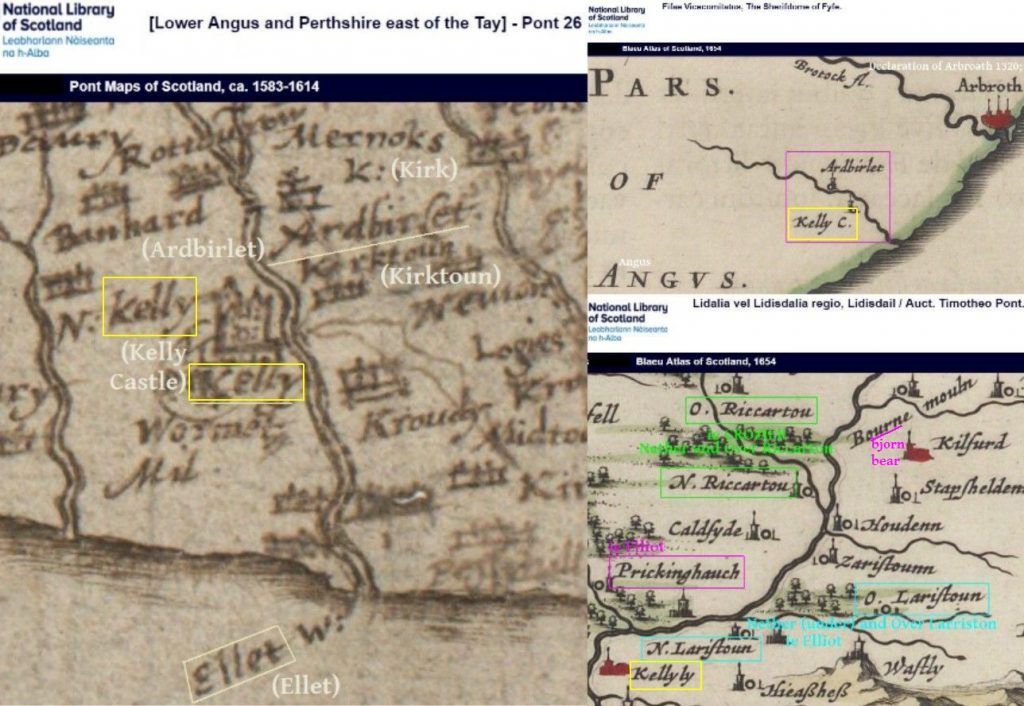 The Ellet Water travels between Kelly Castle, and Ardbirlot Kirk 1583-1614 and 1654.
1/30/2018 MSE

Mark Elliott
Robert Ewald,
Noticed, it is a German name. Do I have something for you to read;
http://gorrenberry.com/proto-germanic-r-u106-haplogroup-dna-elwald-elliot/
Robert ranks third among us Elliott, and fourth among the Ewald, as a forename.
Had a brother now deceased named Robert, and our first ten clan chiefs were named Robert Elwald. After a millennium I may have found kinship in Germany.
811225 Christoph Ewald, b. 1789, d. 1876 Germany I-M223
Welcome to the moose of the woods tribe. No surname, but likely a tribal name.
My migration path is along the mapping of I2a2 which I-M233 is and your first marker like mine is a 14. https://qph.ec.quoracdn.net/main-qimg-b7a6ee1e872e576ac72072eeb0f5d556
Basic question. What is the proto-germanic haplogroup? I1 or R-U106? Answer, likely both basically migrated together, and would have proto-germanic tendencies.
Bemerkte, es ist ein deutscher Name. Habe ich etwas für dich zu lesen;
http://gorrenberry.com/proto-germanische-r-u106-haplogroup-dna-elwald-elliot/
Robert steht an dritter Stelle unter uns Elliott und Vierter unter den Ewald als Vornamen. Hatte ein jetzt verstorbener Bruder Robert geheißen, und unsere ersten zehn Clanchefs wurden Robert Elwald genannt. Nach einem Jahrtausend habe ich vielleicht Verwandtschaft in Deutschland gefunden.
811225 Christoph Ewald, b. 1789, d. 1876 Germany I-M223
Willkommen im Elch des Waldstammes. Kein Nachname, aber wahrscheinlich ein Stammesname. Mein Migrationspfad ist entlang des Mappings von I2a2, welches I-M233 ist und Ihr erster Marker wie mein ist ein 14. https://qph.ec.quacacdn.net/main-qimg-b7a6ee1e872e576ac72072eeb0f5d556
Grundlegende Frage. Was ist die proto-germanische Haplogruppe? I1 oder R-U106? Antwort, wahrscheinlich beide im Grunde zusammen gewandert, und würde proto-germanischen Tendenzen haben.
2/2/2018 MSE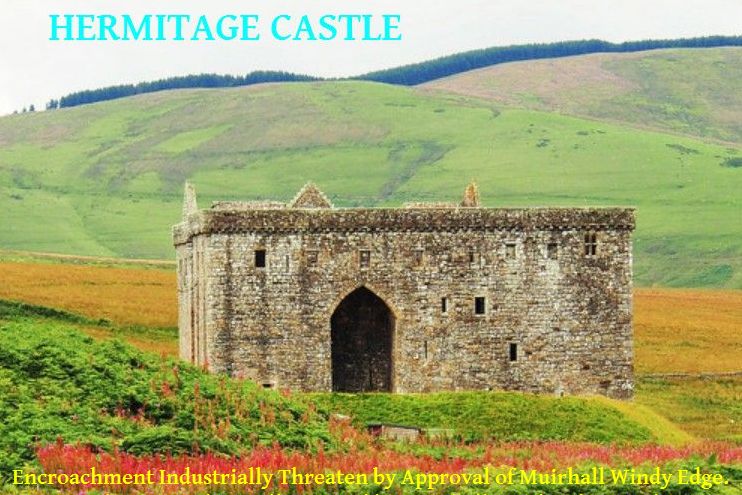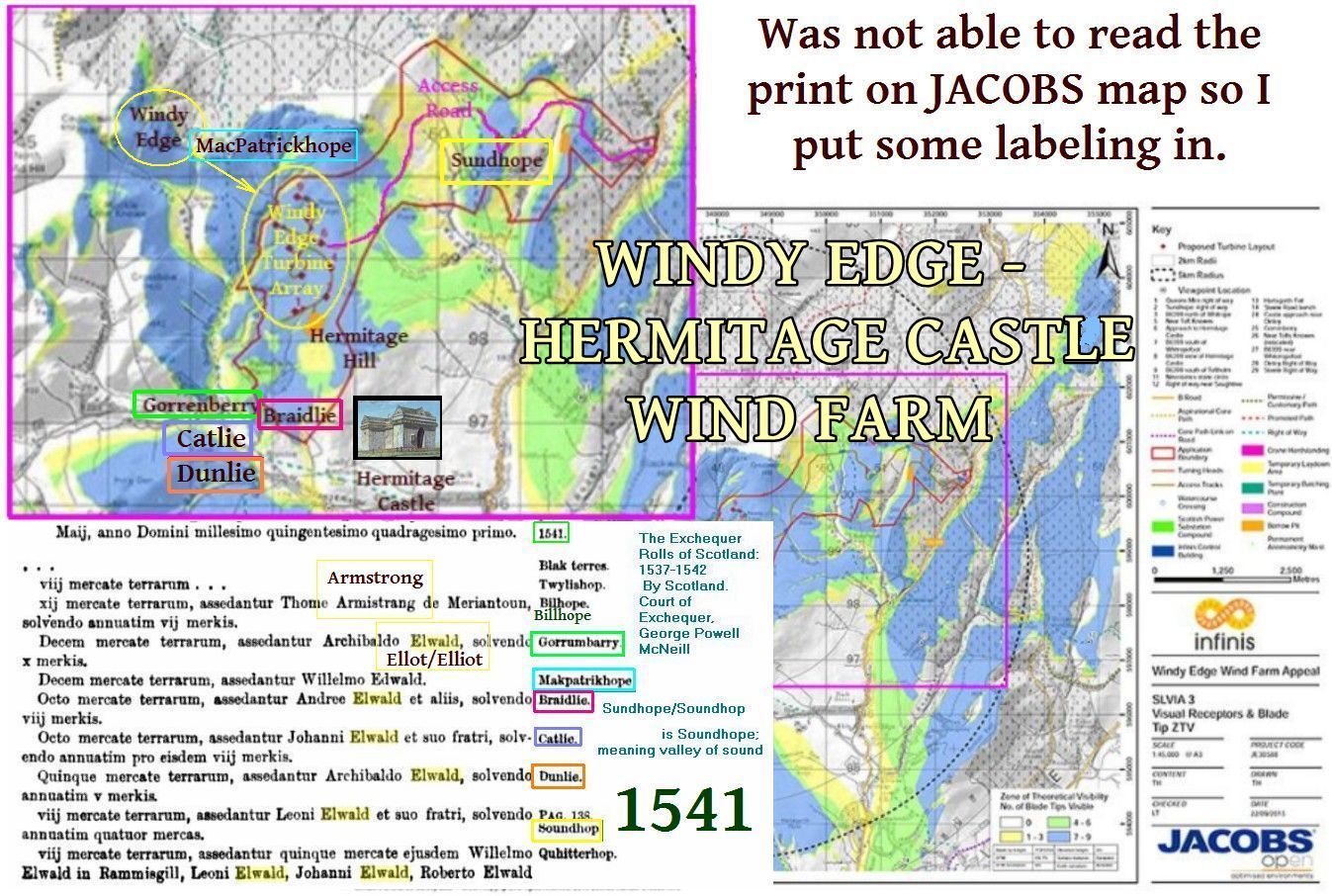 1541 The Elwald-Ellot-Elliot-Elliott defended the Hermitage Castle, and hopefully the descendants today from Hermitage Castles's Windy Edge Wind Farm.
2/6/2018 MSE
Peace On The Border
Steeleye Span
Album Back in Line
After the riding we dispersed
We drifted home in twos and threes
Through cold and rain we spat and cursed
This ancient war of families
Armies past and then returned
They killed and raped, they stole and burnt
So from the cradle we have learnt
To be as hard as stone
And learned to stand alone
(chorus)
They are gone now, the killing and disorder
They're just ghosts now, the brigand and marauder
And we give thanks for peace on the border
We give thanks for peace on the border
Cloak and dagger, crime on crime
Anarchy in the borderlands
The king's men came with a valentine
To break to power of the border clans
Some were hung, some sent away
To Ireland and the low countries
Great was the price they had to pay
God bless their memory
And god bless you and me
The broken towers that stand today
Stand for peace and order
Reminding us until the day
That we need no more borders
Johnie (Gilnockie) Armstrang team, Hobbie Noble team, Walter (Kinmont Willie and Muckle-Mouth Meg) Scott team.
Lori Watson – Johnnie Armstrang
Johnnie Armstrang – Gilnockie
SOME speikis of lords, some speikis of lairds,
And sic lyke men of hie degrie;
Of a gentleman I sing a sang,
Sum tyme called laird of Gilnockie.
The king he wrytes a luving letter,
With his ain hand sae tenderly,
And he hath sent it to Johnie Armstrang,
To cum and speik with him speedily.
The Elliots and Armstrangs did convene;
They were a gallant companie—
"We'll ride and meit our lawful king,
And bring him safe to Gilnockie."
When Johnie cam' before the king,
Wi' a' his men, sae brave to see,
The king he move his bonnet to him;
He ween'd he was a king as well as he.
"May I find grace, my sovereign liege,
Grace for my loyal men and me?
For my name it is Johnie Armstrang,
And subject of yours, my liege," said he.
"Away, away, thou traitor strang!
Out o' my sight soon mayst thou be!
I grantit nevir a traitor's life,
And now I'll not begin with thee."
"To seik het water beneith cauld ice,
Surely it is a greit folie—
I have asked grace at a graceless face,
But there is nane for my men and me!"
"But had I kenn'd ere I cam frae hame,
How thou unkind wadst been to me!
I wad have keepit the Border side,
In spite of all thy force and thee."
"John murder'd was hung at Carlinrigg,
And all his gallant companie;
But Scotland's heart was ne'er sae wae,
To see sae mony brave men dee—"
MUCKLE-MOUTH MEG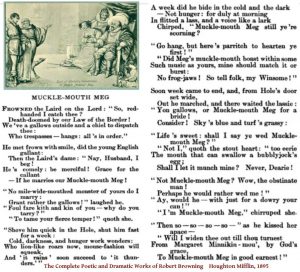 2/9/2018 MSE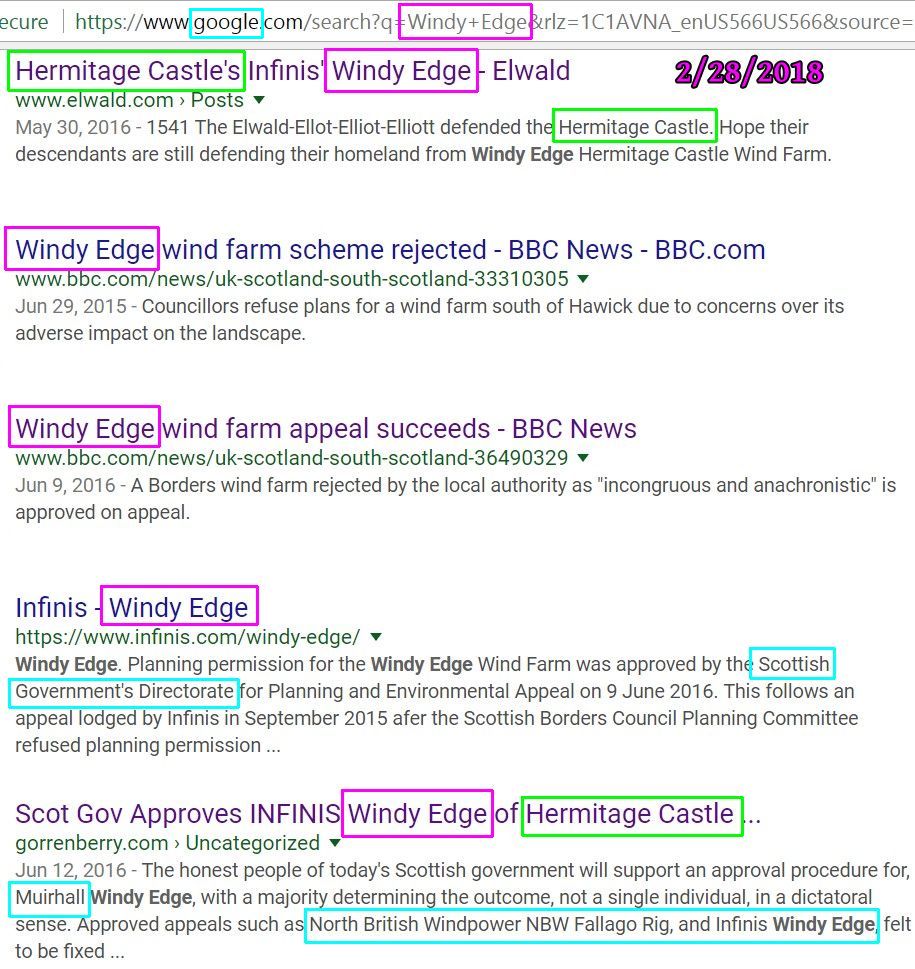 2/28/2018 MSE