Armstrong, Elliot, Crozier, Nixon, Johnson, Graham; Ulster-Scot.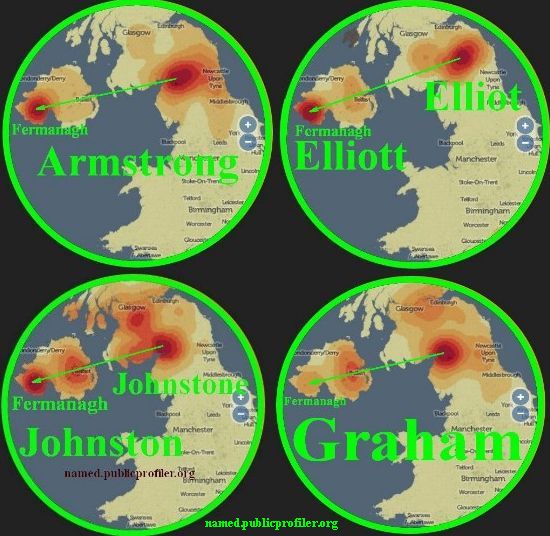 Armstrong, Elliot, Crozier, Nixon, Johnson, Graham; Ulster-Scot.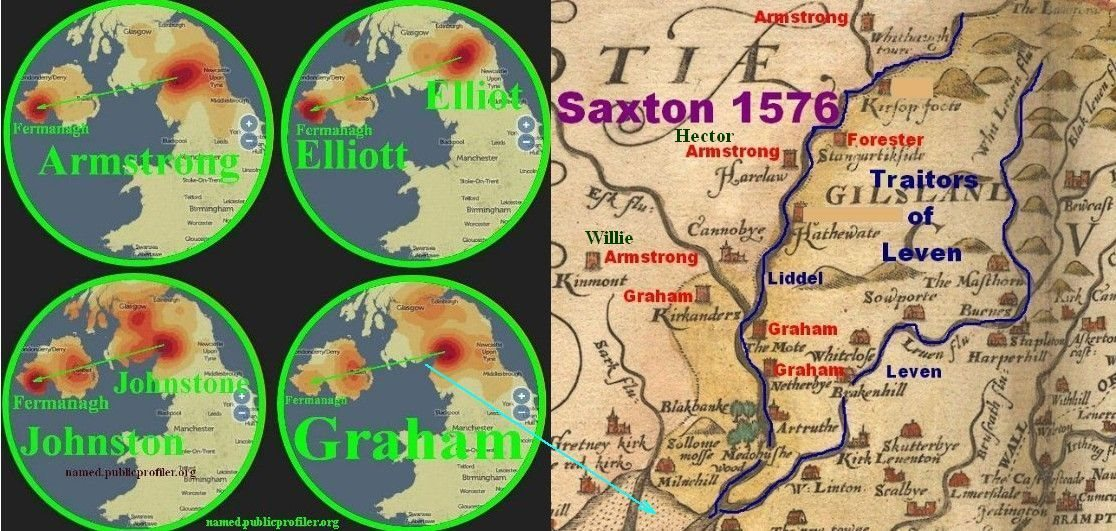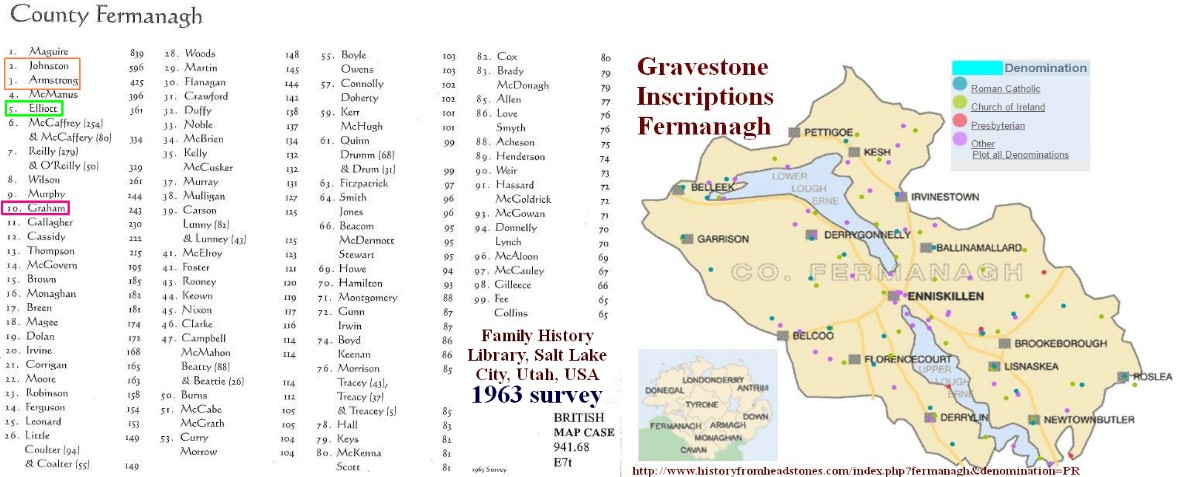 http://named.publicprofiler.org/
Model refinements (error modification)-border migration influencing the Argyll community.
I-M253 Gaelic Speakers, and Vikings. Names Moore, Thompson, and Turner, with I-M253, and Johnston(e).
Johnston(e), is a locality surname from Johnston(e) which I have not been able to find of old County Annandale of Scotland, now it is felt to be of Dumfries, County. The name Johnson the son of John, with English migration proceeded the name Johnston to America. Like Johnston Co., NC. A lot of Johnston of Ulster dropped the "t" to the main adopted spelling of Johnson. If your family is spelled Johnstone, then you likely came to NC from Argyll.
There is a Thompson, UK of East Anglia,
Thompson;https://www.google.com/maps/place/Thompson,+Thetford+IP24+1PW,+UK/@52.4068429,0.7847112,9.85z/
http://worldnames.publicprofiler.org/
Thompsson form in Sweden, and Tompsen; some in Germany more in Denmark and more in Norway.
The Thompson, now consider themselves as a sept of Clan Armstrong, which says they stem from Fairbairn, north of border on east side, carrying I-M253.
http://gorrenberry.com/armstrong-fairbairn-m253-y-dna/ likely the original Fairbairn carried I-M253
Armstrong are self lead, and there do not have a chief, but Clan Elliot(t) does have a Chief Margaret Eliott of Redhuegh-Stobs.
Clan Elliot had septs in past and one of those was Nixon, which the Glendennings, Hunters, and Thompson rode with.
I-M253 is more Viking than my I-U106, and Viking migration https://www.youtube.com/watch?v=OQKjnXKTt5k
Unraveling Our Genetic History | Garrett Hellenthal | TEDxGoodenoughCollege explains some of this.
There was basically a split where the Scots from the borders migrated to, and it is felt they were more comfortable being. My line, migrated like many Johnston, and Thompson, from one border to another, in Fermanagh, and Armagh, on Hamilton leases, of the earliest migrations of borderers to Ulster, and arrived in the American Colony as a Cromwellian indenture to English Puritans.
Others migrated to Scotland likely later to Antrim-Down-Derry-Donegal
All on has to do is put names; Johnston, Thompson, Ellot (without "i" Scottish spelling), Graham, Armstrong into search c1630 muster to see this;
Not so much for Armstrong and Elliott mainly including Neil Armstrong from Fermanagh, from one border to another, but shows up more with Johnston, Thompson, Moore, and Turner, guess they are the Vikings, and I am the Anglo-Saxon.
The language of the Border Scots, is now Ulster Scots, of these Northern Counties of Ireland in which the Border Scots settled.
To get the DNA to correlate well, one has to go back first to the Gaelic Speaking Scotti, of Agyll-Antrim, in order to get it to correlate and make it useful with the genealogy, the "Mc/Mac", "Neil", "the O' people", "Campbell" and variants thereof.
Border people may have been suppress, but do not feel bad all you have to do is look to the Gaelic, to understand what suppression may be in Ulster Ireland.
On the Origins of the Grahams
http://clangrahamsociety.org/origins.html
BY NELLIE GRAHAM LOWRY
SOCIETY GENEALOGIST
Montrose, the Viscounts of Dundee and the Graham family.
"The Encyclopedia Britannica, 13th edition, says under Grantham: "Although there is no authentic evidence of Roman occupation, Grantham (Graham, Granham in the Domesday Book) from its situation on the Ervine Street, is supposed to have been a Roman station. Grantham, in Lincolnshire, England was situated…on the River Witham -105 miles north by west from London."
https://www.familytreedna.com/public/grantham?iframe=yresults
351729 Grantham Unknown Origin J-M267
268595 Grantham United Kingdom R-M269
N73042 Grantham England I-M253
131897 Grantham Unknown Origin R-M269
25% of Grantham 1 out of 4 have J-M267
A about 18% percent of Graham have J-M267, and the Graham are located around where Liddel Strength Castle was.
The J-M267 Graham came up from a Roman are of Grantham (Graham), to soldier Liddel Strength Castle as a part of the Wake Barony of Bourne. DNA evidence is to strong.
https://www.familytreedna.com/public/Graham?iframe=yresults
https://familysearch.org/photos/artifacts/29071284
Death of Lord Hugh Wake of Bourne
· 5 September 2016 ·
Hugh Wake; feudal Lord of Bourne; Sheriff of Yorks, Constable of Scarborough Castle 1239; married by 29 May 1229 Joan (married 2nd by 5 Feb 1243/4 Hugh Bigod, Chief Justiciar of England and died 1276, being by him mother of Roger Bigod, 5th and last Earl of Norfolk of the 1140-41 creation), eldest daughter and coheir of Nicholas de Stuteville by Devorguille, daughter of Roland, feudal Lord of Galloway and Constable of Scotland, and died by 18 Dec 1241 on Crusade in the Holy Land. [Burke's Peerage]
http://gorrenberry.com/geographic-surname-dna-correlation/ Matches with surnames Gresham (Grisham-Gissom) NORTHFOLK, Cave of North and South Cave, Cave married Stuteville which married Wake, of COTTINGHAM, near North and South CAVE of East Riding Yorkshire, And SCARBOROROUGH Locality names which I match are apart of the Barony of Bourne. So it is my surname was adopted in the area of the Barony of BOURNE.
Held the barony of Lincolnshire.
Liddel Strength – Wikipedia
https://en.wikipedia.org/wiki/Liddel_Strength
Liddel Strength is an ancient monument near Carwinley, Cumbria, in northwest England. …. Although Nicholas's branch of the Stutevilles were Barons of Liddell, Liddel was never their principal seat; that lay at Cottingham in the East …. When Thomas Wake died in June 1349, the manor of Liddel was valued at £70 16s.
https://www.familytreedna.com/public/Graham?iframe=yresults
Search J-M267, will see that the Graham for a border clan has an abundance of them compared to other border clans, and it is felt this Y-DNA came up from Grantham (Graham), Lincolnshire, as part of the Barony of Bourne (Bjorn), to soldier the Liddel Strength Castle, at the center of Graham today and into centuries past.
http://named.publicprofiler.org/

3/23/2018 MSE