---
New PDF  developed  12/20/2015 Clan Elliot Origins
The Elwald may have more than one location were the surname was adopted.
The names of Elwald at the time Robert received land of Redheugh, are Robert, John, William,  Ninian, and Andrews.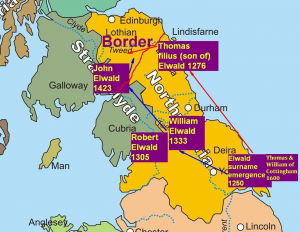 Showing the personal singular name Elwalde being of East Riding Yorkshire, in the 12th or 13th century.
Elwalde de (of) Riston;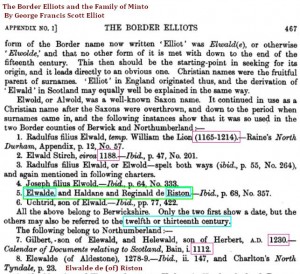 Showing map locations of N&S Cave, Cottingham, and Riston, East Riding Yorkshire, with even a Wold (wood(s)) Rd.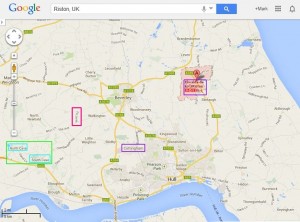 The above given my Y-DNA, location of a personal name Elwalde of Riston in the 12th-13th centuries and a Thomas Elwald about 1614, a farmer on the Cottingham, East Riding Manor, land once owned by the Wake family, along with Kirkandrews passed to the Archibald Douglas of Kirkandrews and Cavers. This is felt to be the Elwald of Redheugh (Larriston)  migration path.
Cottingham to Kirkandrews to Cavers, and around the Hermitage Castle previous to The Declaration of Arbroath, when the north part of Northumbria, became the Scottish Border region. This is when the families of Elwald, Scot, Armstrong, and Ker, were split from the Northumbria, into nations of Scotland and England, and how the true borderer, became a borderer by putting family before country.
When one looks at the history of the kings and parliament, one begins to wonder if the reivers are the true villains they are made out to be.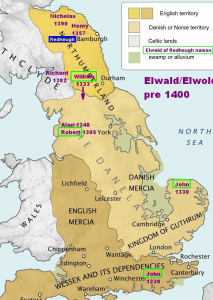 The name Elliot has a Northumbria distribution except Cumbria, and south. Which makes one wonder whether John Elwald of Rye, produced any Elliot. Have a tendency to think this region south could be a tourist region, where the name Elliot migrated from the North to there and London.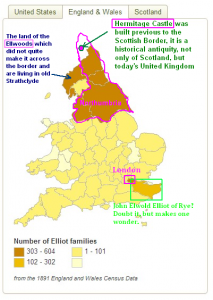 The above shows other possible locations of Elwald origins. John Elwald 1330 was the son of Elwald therefore showing this may be a creation of a patronyme of John Elwald.  Nicholas was in a suburb of Edinburgh named Elwaldside, and may have taken a surname from location, as in a toponym.
As one can see that John Elwald 1230, and Alan Elwald 1248, have the earliest recorded surnames of Elwald. Alan has a son named Robert which is later found in Redheugh, and the location is closer than John Elwald 1230 to Redheugh. Robert of Rimington, Lancashire 1305 is the likely family to migrate north to Redheugh, as which the Ker were noted to migrate northward from Lancashire also.
Early Elwald post 1400;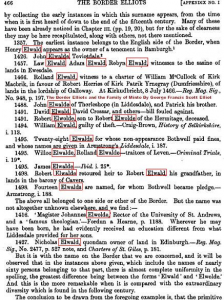 The above shows some differences in spelling, but with a strong Elwald basis.
Elwald-Aliot Surname Relations, and Emergence
added 8/26/2013      MSE
There had been some question about Elwald origins;
Here is information from four very renown writers on the subject;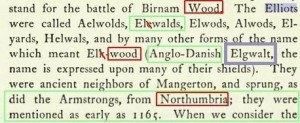 Above; The Chronicles of the Armstrong, by James L Armstrong.

Robert Bruce Armstrong, and "History of Liddesdale" it felt being referred to.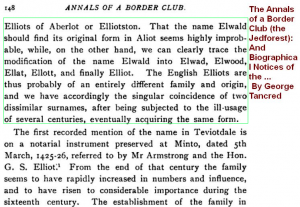 The Annuals of the Border Club by George Tancred.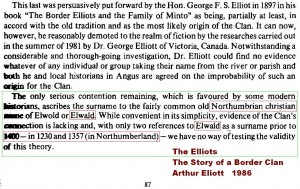 The Elliots; The Story of the Border  Clan
Arthur Eliott 1986.
All of the above have done extensive research and have shown support for the Elwald-Ellot-Elliot-Elliott line.
Mark Elliott                             9/6/2013
More on origins is in;
http://www.elwald.com/elwald-naming/
Added more info to naming showing a likely Saxon to Angle localities.
9/23/2013
For the historians, of which I am a research genealogist, utilizing land transfers and Y-DNA, along with linguistic evolution and meaning of the family name/surname Elchwald to Elgwald to Elfwald to Elwald to Ellot to Elliot to Elliott, a basic trend one should note;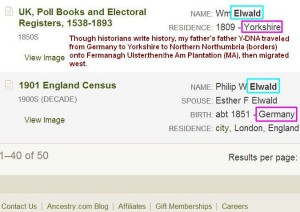 Family came from Germany to Yorkshire on to Northern Northumbria (Borders), then to Fermanagh, Ulster, on to the American Plantation (MA), then migrated with the western expansion. A basic trend on should note.
How a historian writes history is up to them. All I am doing is tracing my father's father.
Mark Elliott               12/03/2013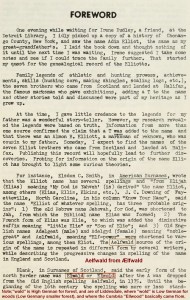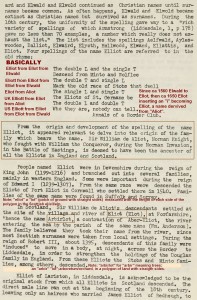 BASICALLY;
Elliot from Ellot from Elwald,
Eliott from Elliot from Ellot from Elwald.
Eliot from Aliot.
Elliott UK from Eliot from Aliot.
Elliott US from Elliot from Ellot from Elwald.
Elliot from "i" insertion ca 1650, from Ellot to make it a variation of Aliot.
Ellot Burn, Angus, from the water traveling through ellot ell lot; land in this case farmland but could be tree land; surveyed with straight sides with lengths measured in the Scottish el/eln/ell, as standardize in Edinburgh, making  polygons called  "lots", and one may refer to as a farmer's field.
Arbirlot, Angus, from an arbir/arbor/tree lot, or arboretum/orchard, as found in or near the locality previous to naming, across from Kelly Castle (community may have been removed from original region).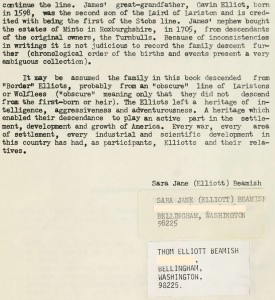 MSE  3/7/2014
Appended;
Crests, arms, shields;
German Ewald crest.   Wald is for forest, and that is what the tree is felt to symbolize;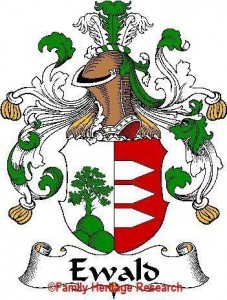 Anglo-Saxon Elwald;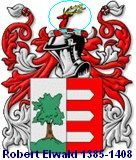 Said to be the Robert Elwald 1385-1408 Crest, of Redheugh. Anyone note; any similarities to the German Ewald crest?
There is a stag's head on the Elwald crest.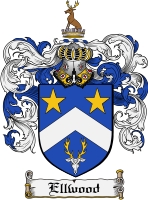 Ellwood, from Elwold, Elwould, Elwood, is of Cumbria England.
Felt to be of lowland Germanic-Anglo-Saxon in migration.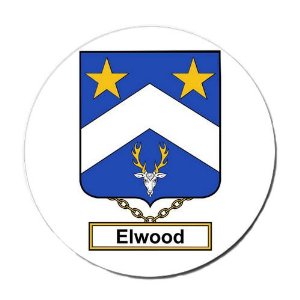 Martin Elwood (Ellot), of Braidley east of Hermitage minor son of a Robert of Redheugh which was temporarily, disposed of so Martin Elwood was acting chief, also a member of the Gorrenberry Gang, next to Braidley.
The Elwood of Ulster are felt likely to be of this family.
Ellwood/Elwood crest, with stag head, like the Elwald crest.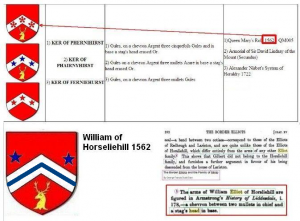 Anyone see similarities between the Kerr, Horseliehill and Elwood/Ellwood crests?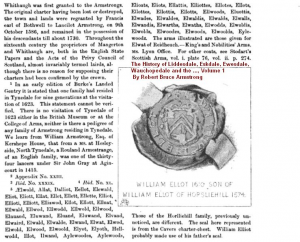 William Ellot seal has crest of Horseleyhill.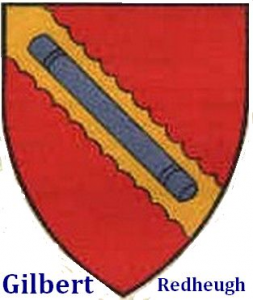 Redheugh shield.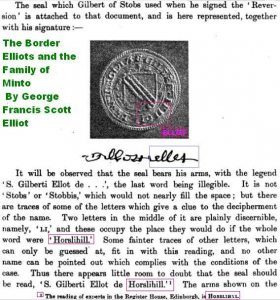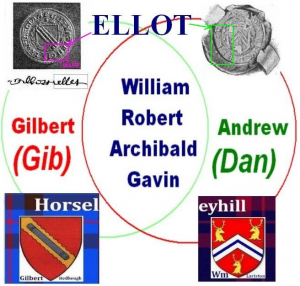 Similar names were shared by the Gilbert Ellot family of Stobs, and the Andrew (Wm of Horseleyhill) line of Ulster.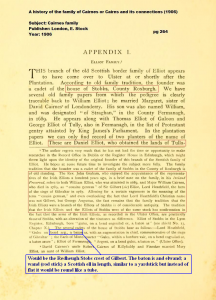 Said that the Ulster Ellot started utilizing the Stobs (Redheugh crest). It is felt they shared Horseleyhill  from where they branch. It is also felt for the record that Gilbert was born of Redheugh, though the oldest son to maintain the line was by the name of William.
Gilbert Ellot seal has crest of Redheugh.
Mark Elliott    3/28/2014
New 4/25/2017
Came to a conclusion the surname of Robert Elwald I-X was seeded in Liddesdale, and the surname of John Elwald, Rector of St Andrews 1418, Canon of Glasgow, Rector of Kirkandrews Parish of the Diocese of Whitethorne of St Ninian, seeded the name Elwald into Scottish Cumberland, and Liddesdale, where it became adopted by a major part of the populace which in 1423 did not have surnames.   That it is likely that the Earls of Angus, brought soldiers for the Hermitage Castle from Angus. That the surname Ellot-Ellott-Eloth-Eloth and Scandinavain-north central French surnames where known by this group, or few may have used them, where around time of Reformation the name Elwald was replaced by Ellot, around The Hermitage Castle in Liddesdale. St. Ninian which converted The Picts to Christians was the name of the church at Abirlot, in a region in which St Ninian made a dedication.
"As a result of William's death in 1384, followed by that of his son James, the 2nd Earl, four years later at the battle of Otterburn, the lordship of Liddesdale and Hermitage Castle passed to George Douglas, the illegitimate son of the 1st Earl and his mistress Margaret Stewart, Countess of Angus. George Douglas, 1st Earl of Angus and founder of the 'Red' Douglases, added corner towers to his father's great keep."
http://fred.eu5.org/history-hunters/boherm.html
APPENDIX B
Origins of the Clan,
"That the Ellot clan originally derived from Angus has always been a tradition in the family and it is scarcely a coincidence that our name should be the same as the of the River Elliot in Angus. This little river runs into the sea near Arbroath and in ancient times was spelt 'Elloch' or 'Elloth' or 'Ellot'. The village of Abirlot (formerly 'Aberellot'), which stands near the mouth, took it name form the river." THE ELLIOTS The Story of a Border Clan, The Dowager Lady Eliott of Stobs & Sir Arther Eliott 11th Baronet of Stobs, 1974 ed 1995, page 346
"The Border Elliot may have very well originate in Cumberland before 1400," James V. Elliott, Elliott and Border Reiver DNA Project News Administrator.
http://www.elwald.com/wp-content/uploads/2013/05/John-Elwald.pdf
Elwald surname, is located in places which became Ellot then Elliot
https://books.google.com/books?id=DuU9AQAAMAAJ&pg=PA205&lpg=PA205&dq=history+Liddesdale+Elwald&source=bl&ots=6hmvVx635g&sig=aPwhhYdAdKua8FcJBygoNnFH2do&hl=en&sa=X&ved=0ahUKEwj0zsXOqrbTAhVqrVQKHePPCHIQ6AEIIzAA#v=onepage&q=history%20Liddesdale%20Elwald&f=false
Abirlot (formerly 'Aberellot') Note Abirlot means an orchard, and Aberellot, means a lot which sides are measured in Scottish "el", near the mouth of a river.
It is felt that the Earl of Angus, brought his own soldiers, to the fort, The Hemitage Castle, but in 1320 they did not have surnames, for the most part. The surname was seeded as Elwald; St/King "people of forest grows", and Anglo name which came up from East Anglia, with the chieftain family. Between 1380, and about 1500, people around The Hermitage Castle, likely referred to as Elwald, took on the surname Elwald, which at the time of reformation became Ellot. Likely the name form Ellot existed.
James V. Elliott, was instrumental in http://www.vancegenealogy.com/A1%20Clade%20Report.pdf A-1 Clade Report, on R-L193, which seems to have leanings to the Elliott, of being of around Cumberland.
R-L193 is a Haplogroup representing Little/Elliot (Elwold, Elwould, Ellwood) of the Cumberland area. More educated in 1420, the more likely if living in region one would carry a surname, which John Elwald, did educated in France, England, and rector of the first Scot's university, St Andrews in 1418, but migrated his way to Kirkandrews, being the rector of Kirkandrews Parish, Diocese of Whitethorne, on the Esk, near Canonbie, seem to be his preference, where people likely without surnames adopted his of Elwald/Elwold, which took on the flair of Elwold-Elwould-Ellwood-Ellot-Elliot, which was found in the region.
It is found that John Elwald was rector of Kirkandrews in 1423, which was of the Cumberland;
https://familysearch.org/wiki/en/Kirkandrews_on_Esk,_Cumberland_Genealogy
"Very little information is available as to his career in Scotland. He is
doubtless the John Elwalde who figures in the index to volume
vii. of the Calendar of Papal Letters as 'canon of Glasgow, rector
of Markinch and vicar of Selkirk Regis, afterwards rector of
Kirkandrews and Kirkinner, with the rectory of Markinch in
commendam' The two entries in the text of the volume relate to
the year 1423, and describe Elwold as Licentiate of Theology as
well as Master of Arts."
https://archive.org/stream/scottishhistoric08edinuoft/scottishhistoric08edinuoft_djvu.txt
Yes, it is felt John Elwalde in the year 1423, likely introduced the surname Elwald/Elwold in the region as rector of Kirkandrews on The Esk, to a population less educated, and without surnames, but in the region of Liddesdale, the Elwald to Ellot name was introduced by the chieftains, of Robert Elwald, which there was said to be ten of them. It would be only the later Robert Elwald maybe VII to X which likely had the greatest influence on surname adoption.
To reiterate;
In the Liddesdale region around The Hermitage Castle the surname Elwald was introduce by the clan chieftain Robert Elwald line at which they was said to be of the same name Robert Elwald I-X which brought over the generations the Anglo surname Elwald from East Anglia, into the region of Liddesdale. With John Elwald previous rector of St Andrews 1418, he brought the Elwald surname, in the position of Rector of Kirkandrews on the Esk, and people of the region adopted it. There is a line of Navajo with the surname Elliott, which was adopted from a missionary, showing this type of adoption of surname likely for Navajo within the past hundred years, likely happened around Kirkandrews, with John Elwald being rector in 1423.
Finding that J-M268 "Ancient Roman" DNA exist among the Graham, which likely acquired to the former name of Grantham, which is felt could easily have an "Ancient Roman" history.
With the name "Little" containing R-L193, and in the region of Cumberland, with "Elliot" having R-L193 also, it is felt also in the region around Kirkandrews, it is felt that Rector John Elwald, of Kirkandrews Parish of the Diocese of St Ninian's Whitethorne, seed the surname Elwald to a region in which his parishioners did not have surnames.
With Liddesdale the Elwald name came for a line of ten Robert Elwald Anglia Felt that some of these people came down from Angus, as soldiers for The Hermitage Castle from a region which St Ninian visited near Abroath, Angus, because Ninian in the late fifteenth century was an Elwald family name; Ninian Elwald. It should be noted; it is St Ninian Parish at Abirlot, to the mouth of the Ellot Burn, in the North Sea, in the area which these soldiers for The Hermitage are felt to have come from. Today's name Elioth (Swedish), http://worldnames.publicprofiler.org with a "h" at end of name, is Scandinavian, so it is likely that El(l)oth are Scandinavian also.