What the objective of the following is to establish the present day chief Margaret Eliott of Redheugh-Stobs to the Redheugh line;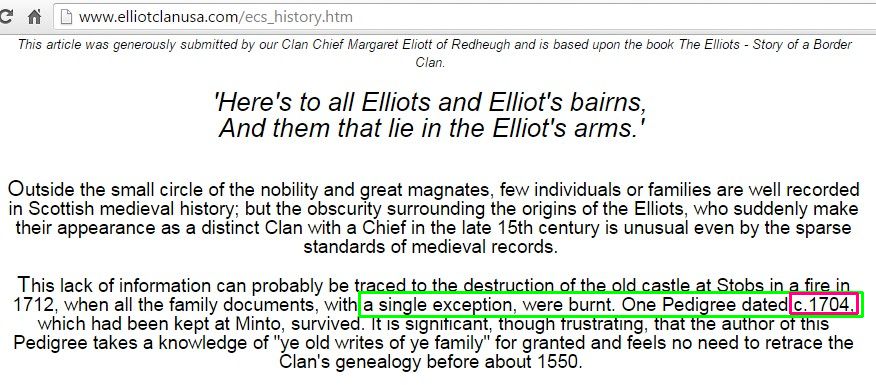 PEDIGREE c1704, previous to Stobs fire of 1712;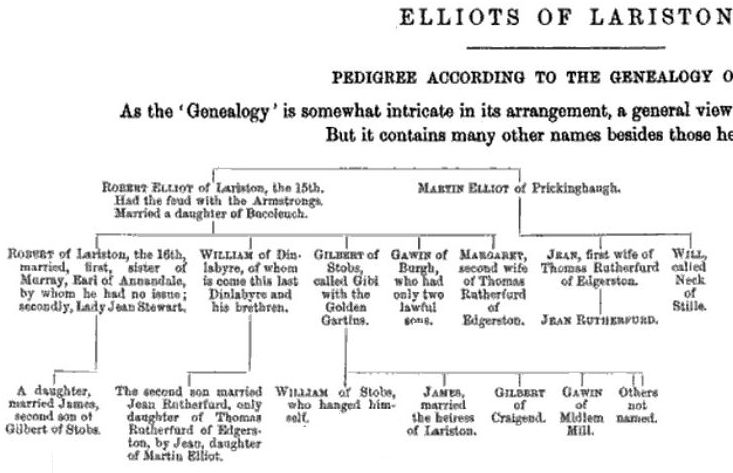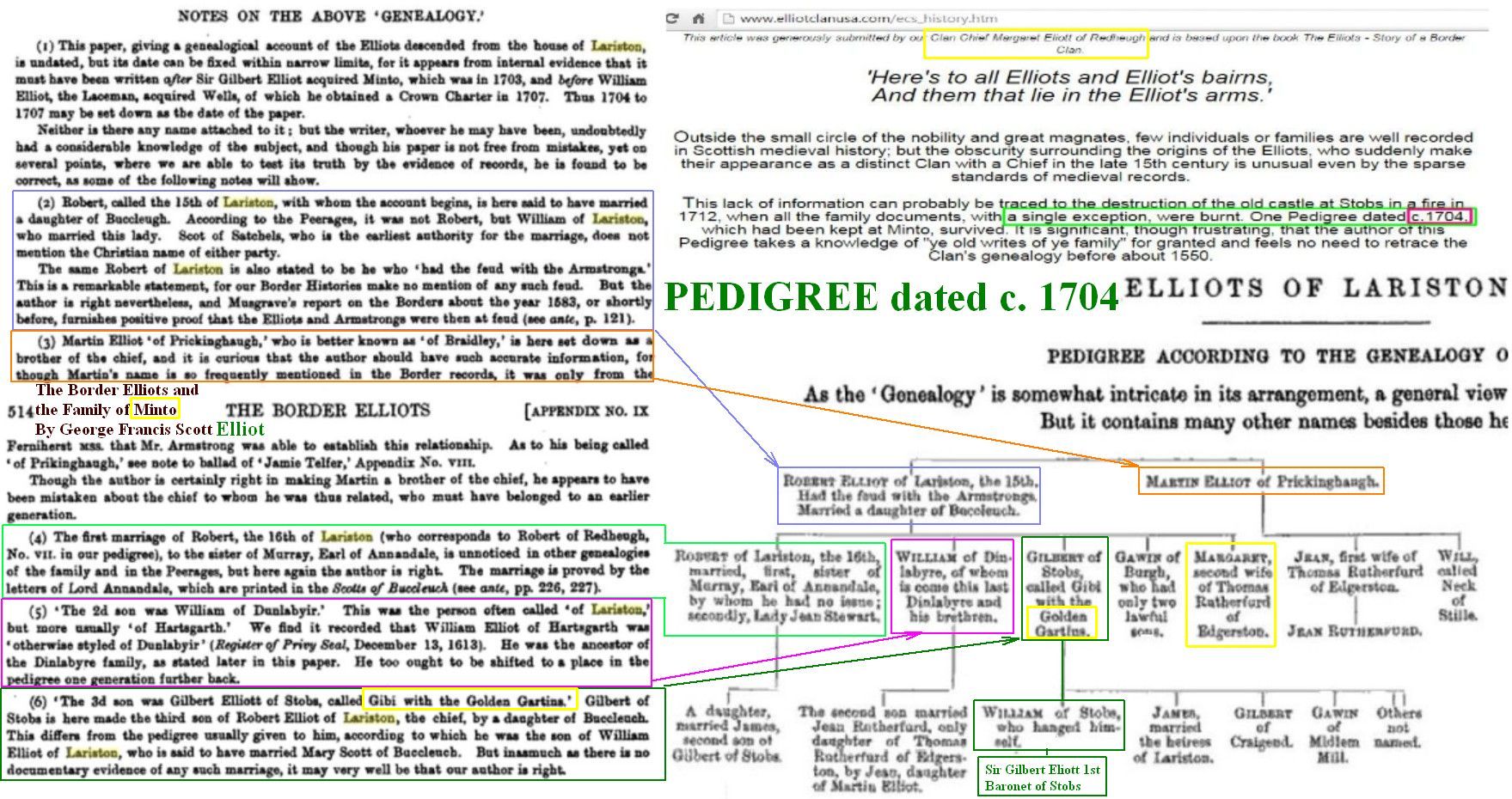 Burke's seems to correspond, with Robert, William, Gilbert, Archibald, plus Gavin from pedigree. Court record with Queen Mary of Scots, assigned judge Buccleuch. A William illegitimate son of a decease    Robert Ellot is listed.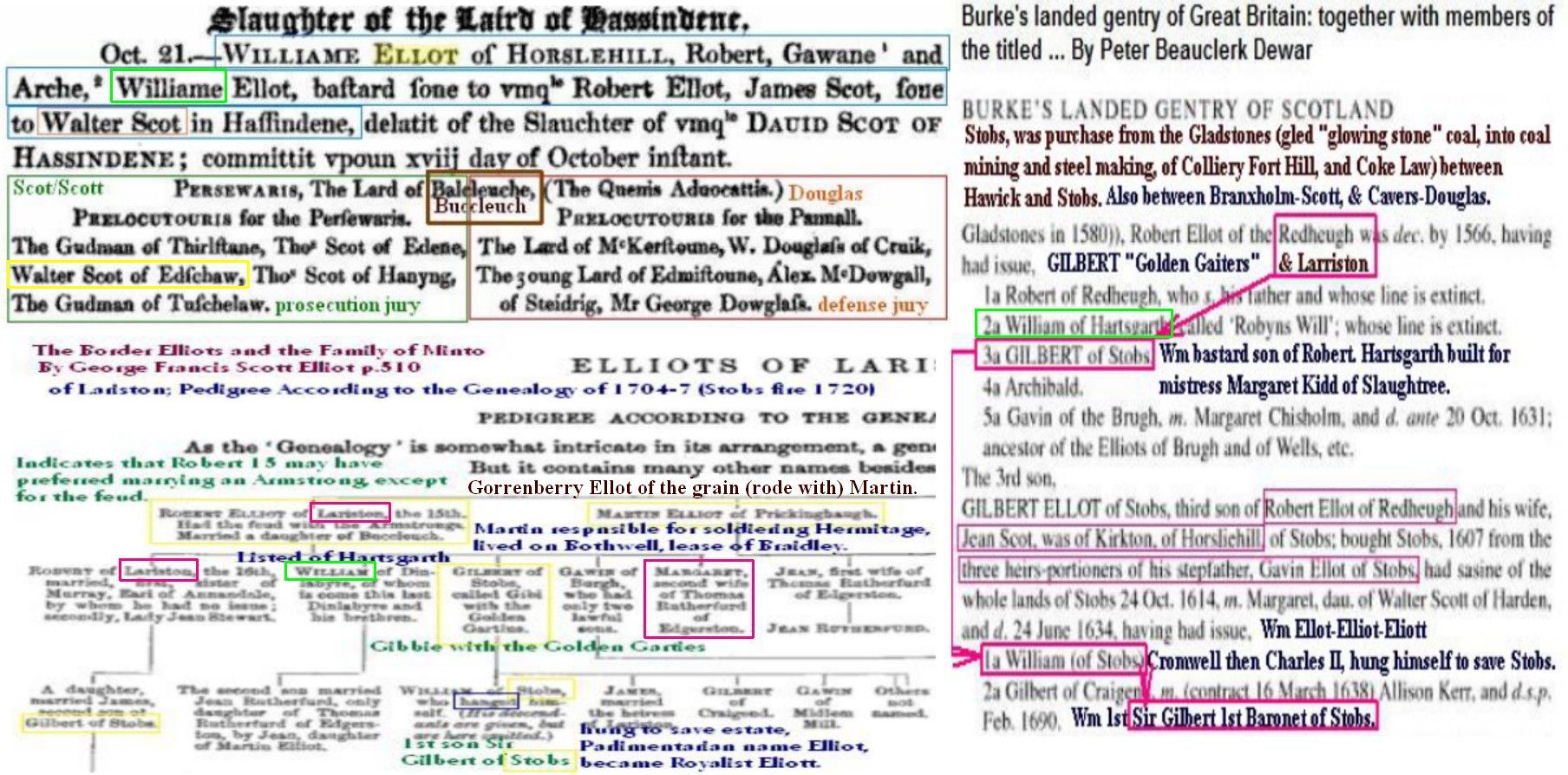 Margaret Kidd, and William of Hartsgarth, have associations to the same locality.

Robert XVI feuded with the Armstrong, and seems to played around openly on Buccleuch's sister Jean Scot.
Gilbert is not likely the son of Jean Scot, but is given a sizable dowry, to marry a cousin to Buccleuch. Since Gilbert is not the son of Jean then no incest is involved.

Gilbert's grandson was Sir Gilbert, first baronet of Stobs. Was married with a sizable dowry.
Horsleyhill family comes from the Gorrenberry, line;
Gilbert Ellot of Stobs, has and "elwand" on the bend. Since Redheugh is of Stobs, and Larriston, they share the same seal-shield.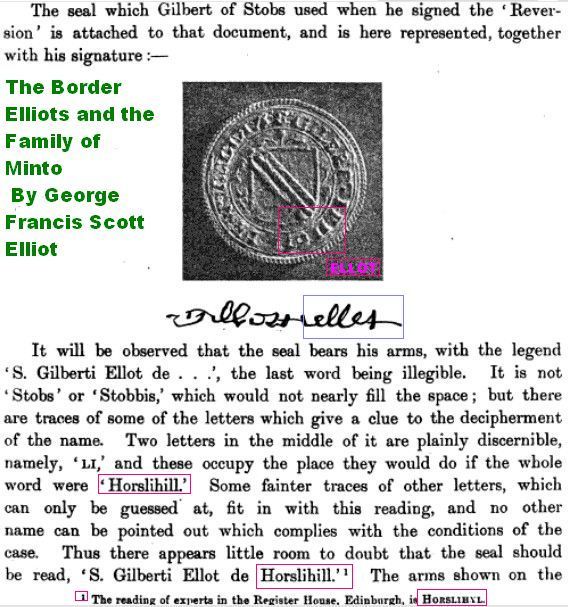 William Ellot of Gorrenberry-Horsleyhill, retains, the Elwald-Elwold-Elwood, of Yorkshire, Northumbria, now England seal-shield with stars above chevron, and a stag's head below;
William Ellot is of the Gorrenberry lands, but lived on Bothwell lands obtained from William of Cavers, near Hermitage Castle.  Arche Keen (Archibald Ellot the wise), and Clementis Hobs (Clement Crosar's sister's son Hob Elwald-Ellot) lived in Gorrenberry.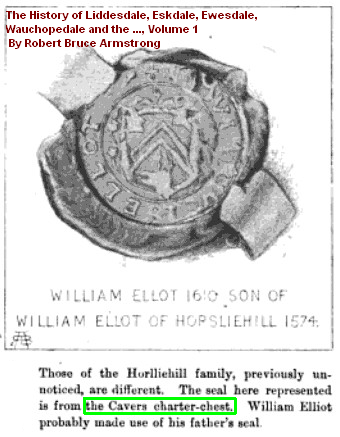 As one can see the two seals are different and the "chevron" seal is of Gorrenberry land, and the "elwand" shield is of Redheugh lands;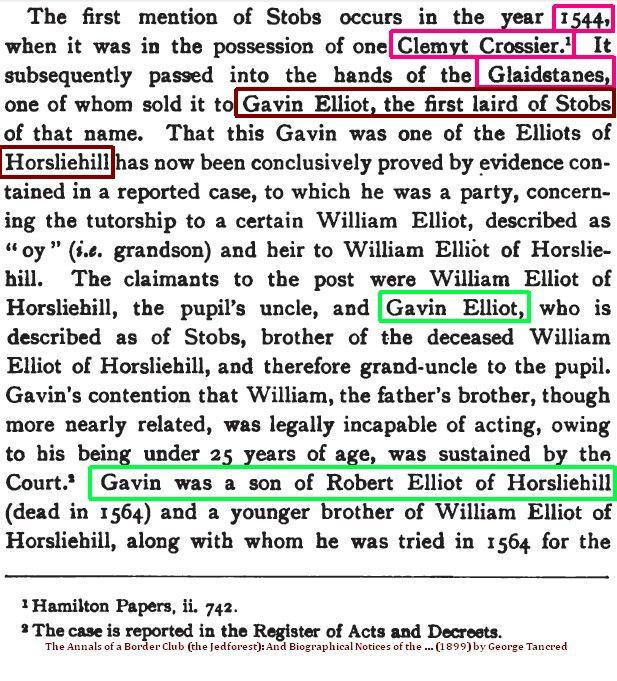 It should be noted that Gavin is of the Gorrenberry-Horsliehill-Stobs line step-father to Gilbert of the Redheugh-Larriston-Stobs line. This is shown by the shield which Redheugh-Larriston-Stobs adopted.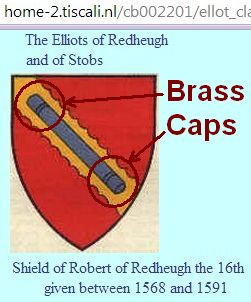 Which matches the seal of Gilbert Ellot of Horsleyhill.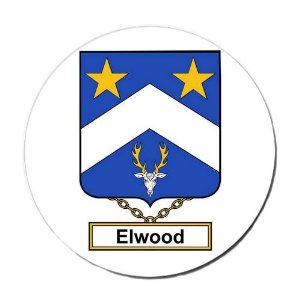 The Elwood/Elwold arms matches the seal of William Ellot of Horsleyhill. This "chevron" seal of York, Northumbria, is previous to the Redheugh "elwand" seal.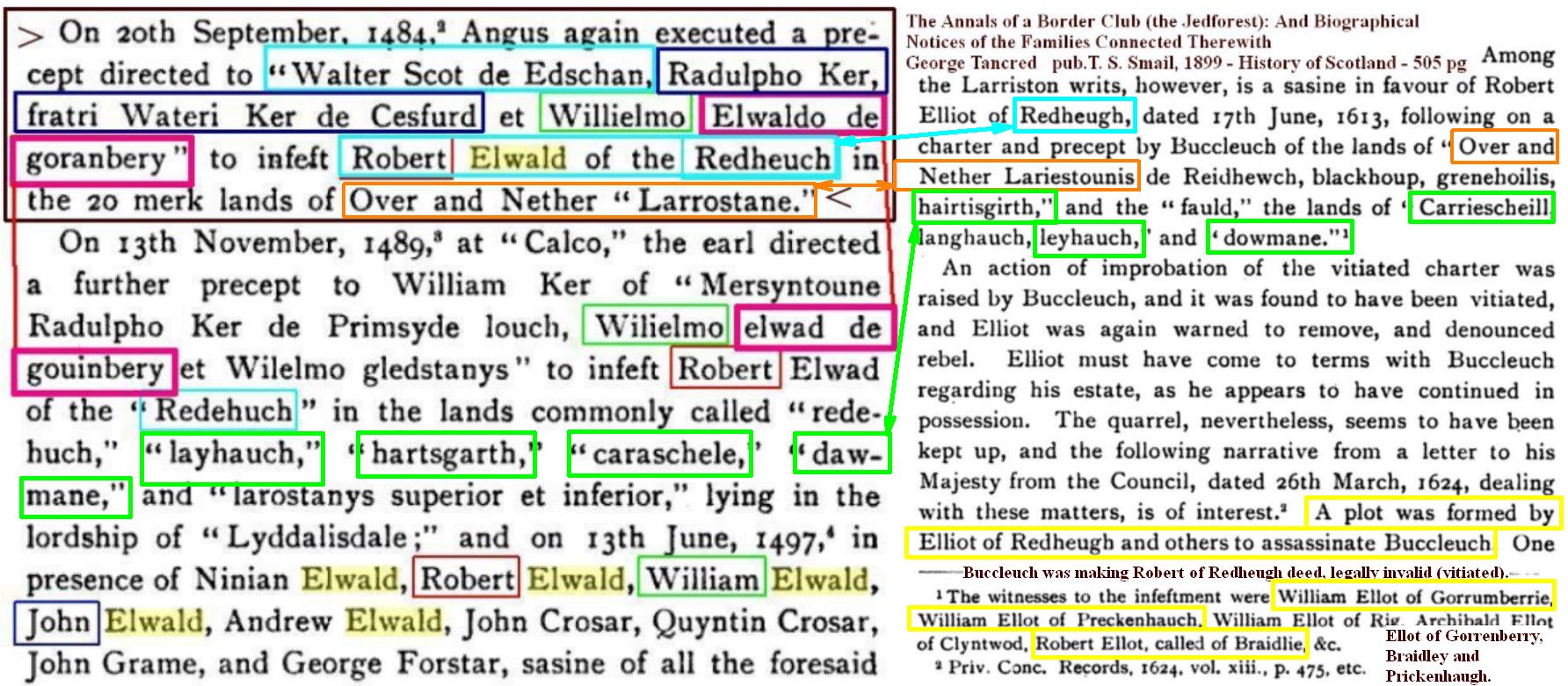 On can see that Buccleuch, is trying to legally invalidate in 1613, Redheugh lands received in 1484, from Archibald Douglas fifth earl of Angus.  So there is beginning to be a realignment of the chieftain line away from Redheugh, into Gilbert of Stobs, with assistance of the Gorrenberry-Horsleyhill Ellot.
There was a branch of Gorrenberry;

It should be noted that Dandie Ellot was a noted follower of the Laird of Branxholm (Buccleuch)

It is felt that Gib Ellot was Dandis Gib, and also a follower of Branxholm (Buccleuch).

Since King James VI of Scotland, became James I of England, the Branxholm-Buccleuch line, had to figure out a way to concentrate land into an ownership. The Armstrong had their lands, stewarded by Branxholm-Buccleuch, but did not have land ownership. The Gorrenberry-Horsleyhill line had land ownership, in a small amount because they were land managers, for the Douglas, of Angus, Hepburn, of Bothwell, and for the Burgess of Selkirk.   So since, Gilbert was of the Redheugh-Stobs line, and Redheugh was at odds with the Branxholm-Buccleuch families by taking a mistress over a sister of Buccleuch the solution to realign the chieftain line to a person of Stobs which had from the Gorrenberry line an understanding of land management, and was of the Redheugh-Buccleuch bloodlines, and that would be Gilbert to son William to son Sir William.
12/26/2017 MSE