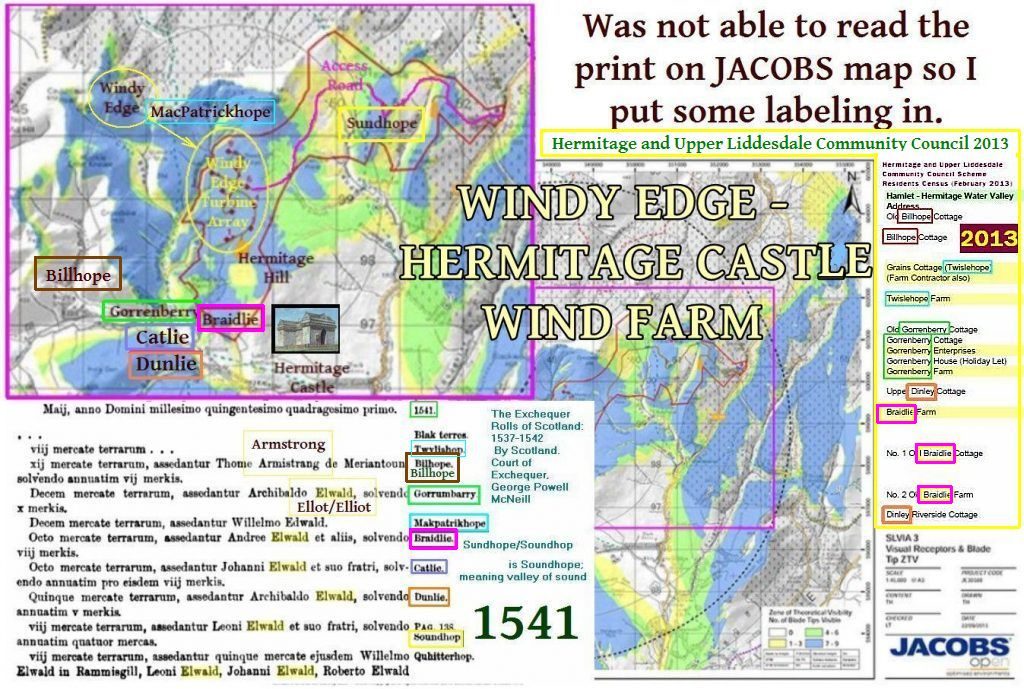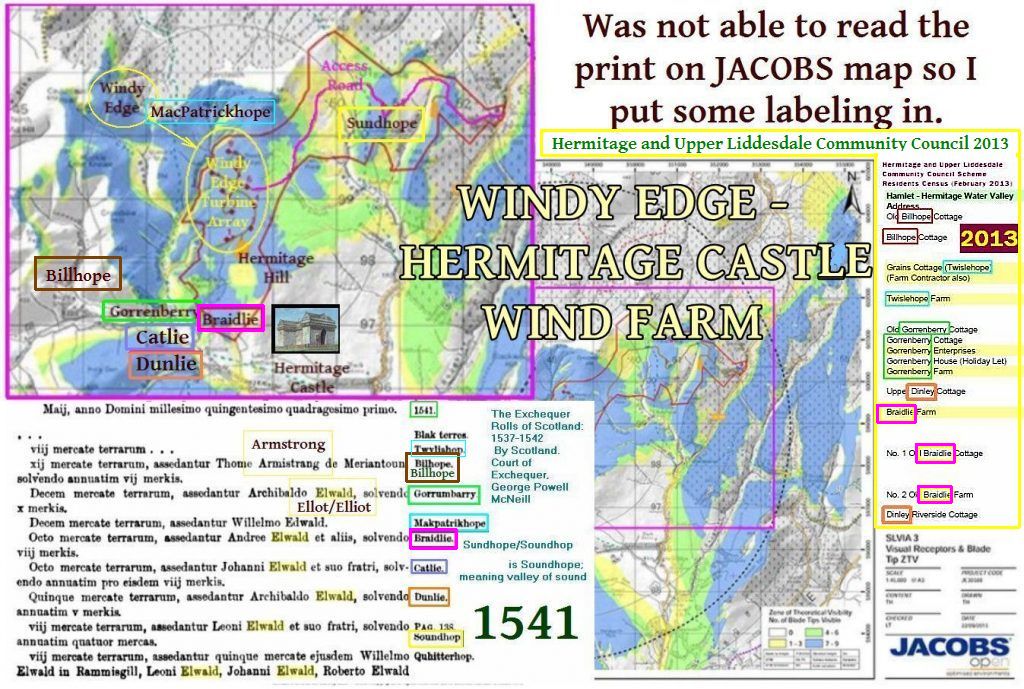 Exclusive: UN ruling puts future of UK wind farms in jeopardy Tribunal warns that the Government acted illegally by denying public participation, Tuesday 27 August 2013 19:54 BST
The United Nations Economic Commission Europe has declared that the UK flouted Article 7 of the Aarhus Convention, which requires full and effective public participation on all environmental issues and demands that citizens are given the right to participate in the process.
When James VI of Scotland, became James I of England, indigenous populations of Armstrong, and Ellot and other reivers were genocide by living in the borderlands, which were being cleared to make way for a Middleshires.
The Elwalds and Armstrangs did convene;
They were a gallant companie—
"We'll ride and meit our lawful king,
And bring him safe to Gilnockie."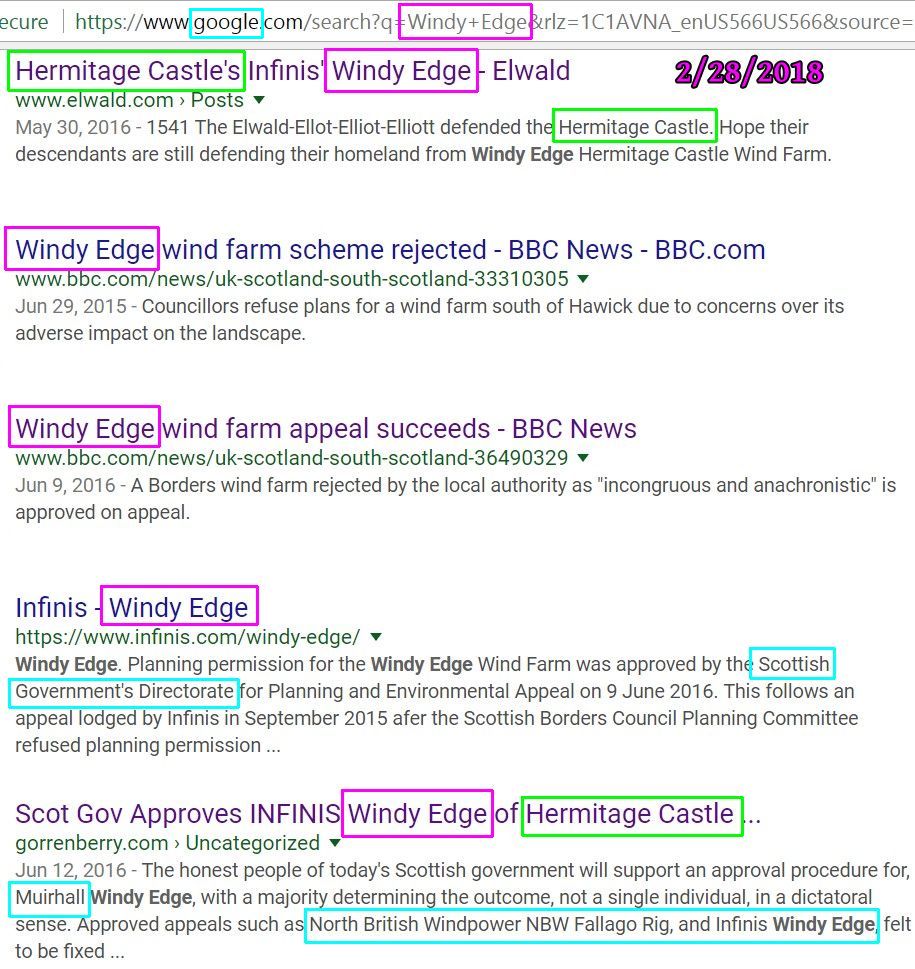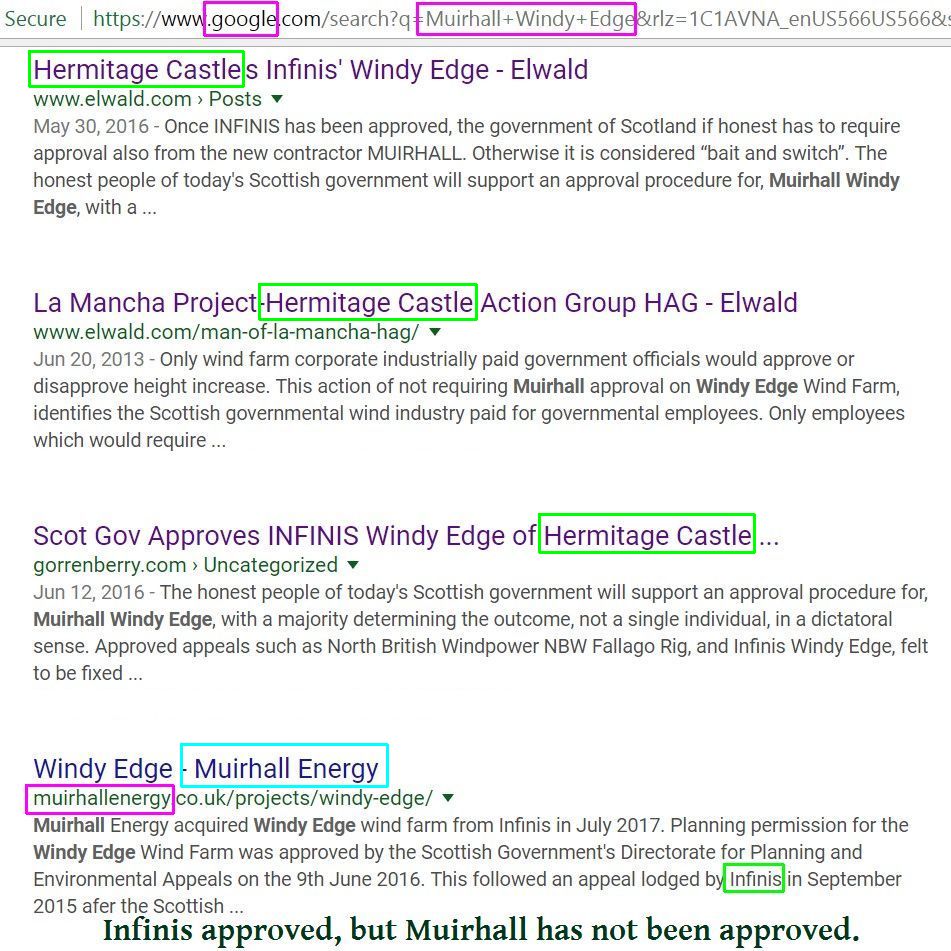 The La Mancha Project chases windmills, near ones own ancestral land of Gorrenberry, with help of the highlander Clan MacGregor, Clan Armstrong, Clan Crozier, Hermitage Action Group, the bauld Buccleuch and the minerals man of Buccleach Estates, and many others, which believe in chasing wind mills, and knocking them, or keeping them down from places the do not belong such as in the ancestral lands of descendents of many a border reiver, no manner how notorious they may be. Like knock them down at Fallago Rigg Windfarm of North British Windpower, where Cessford, Ferniehirst, and the second husband of Redheugh (MI6), used corporation tactics of North British Windpower, and English MI6 military tactics, in a sense of Adolf Hitler of Germany to supersede the major of border constituency. Process is that proper procedure is first use, and the wind farm is rejected, with the majority of disapproving it, then it is put in appeal, Scottish politicians paid off, with MI6 tactics used to control the media.
Windy Edge Wind Farm, where Windy Edge is not a name people know, and is an obscure nearby location, the name should have been of a nearby location, if properly named it would have been called THE HERMITAGE CASTLE WIND FARM. Can anyone possibly think who choose the name. Was it choose by the industrial wind turbine industry, or by the local people.
Who does the the Scottish Government listen to it's people or the government of England? Which likely does not want the concentration of wind farms as found in the Middle Shires, and the international with makes like Scottish, in North British Windpower NBW, and Muirhall. Who do you think the employees of North British Windpower NBW are working for anyway. If they are not listening to the people of Scotland getting wind farms which have been turned down by a majority, which on appeal a single reporter, which may not even know the landholders, like certified surveyor Richard Scott of Buccleuch Estate, which has promoted wind farms, but opposes THE HERMITAGE CASTLE WIND FARM as WINDY EDGE, and the historic lands with Clan Ell(i)ot, chief Martin, as next brother filling in for his death lived on.
Though the UK Armstrong are riding against, over the centuries it is felt that the UK Elliot, with their inserted "i" have became the English Eliot, with a single "l", of Breton, with strong support of the English corporate ways, and James I, of England, and his Middle Shires, that the are at the disposal of the Kingdom of England and the puppet Kingdom of Scotland. So it is felt that the traditional allies of the UK the UK Elliot are standing with Cessford, Ferniehirst, the second husband of Redheugh. Can not call them traitors can I? Like I can not call Clan UK Armstrong, Clan MacGregor, Buccleuch, and Northumberland heroes, can I?
Muirhall has not been approved to build Windy Edge Wind Farm like Infinis
Infinis was approve on appeal, by the Scottish Government, by their showing their knowledge unlike Richard Scott of Buccluech Estates a certified land surveyor, who is pro-wind farms but much against Windy Edge Wind Farm, they picked a government reporter, where one reporter thought Richard Scott of Buccleuch owned the land showing how qualified reporters are in land management, and how knowledgeable the Scottish Government is on managing wind farms. Can anyone understand this stand if the Scottish Government is being paid by the Wind Farm Industry to place electric turbines next to historical ancestral archaeological structures, representing the heritage of the UK's children, and their children of generations to come.
Muirhall is said to be a "Scottish" firm, like North British Windpower NBW who were approved after rejection on appeal, also like Infinis not Muirhall was approved for building Windy Edge Windy Farm.
https://lilliesleafashkirkmidlem.wordpress.com/…/denholm-drop-in-session-re-wind-fa…
Oct 9, 2017 – Greencoat Uk Wind . Operational 10 turbines (121.5 m high). Windy Edge ..MuirhallConsented 9 turbines (110 and 125m high) .. Likely to see an application to increase the height. In planning. Birneyknowe ..Banks ..15 Turbines 132 metres high. Heading to appeal. pre enquiry meeting due at the end of the …
Application approval to increase height is a way around trying to show that they are approved. Only wind farm corporate industrially paid government officials would approve or disapprove height increase. This action of not requiring Muirhall approval on Windy Edge Wind Farm, identifies the Scottish governmental wind industry paid for governmental employees. Only employees which would require Muirhall approval with a majority, not a single individual, on Windy Edge (Hermitage Castle) wind farm  are the Scottish government employees which are not being paid by the wind farm industry.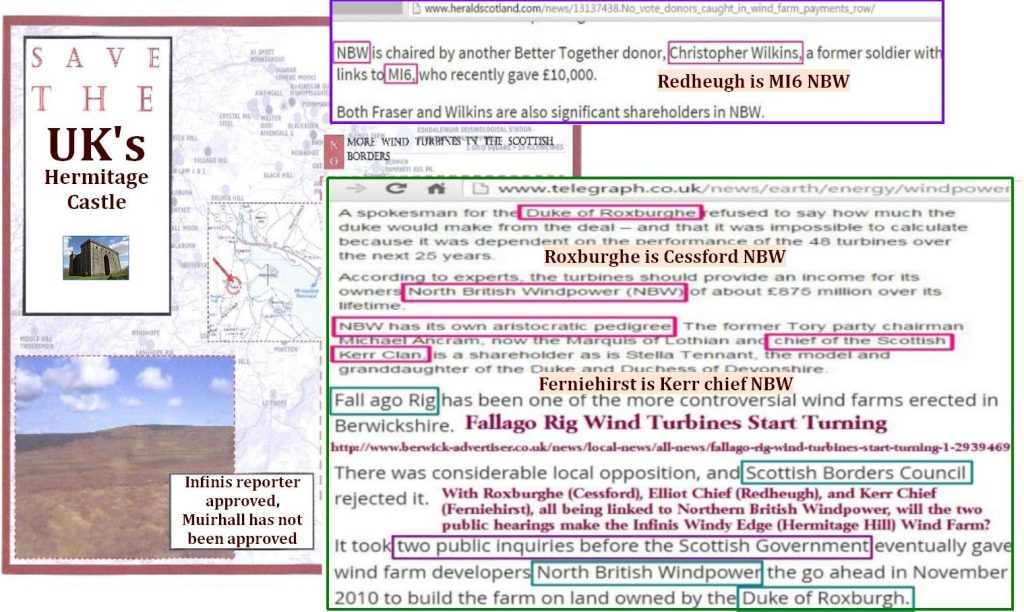 Ask oneself; has a Scottish Border Wind Farm been repealed without an accepted appeal?
Appeal to reverse decision of Scottish Border Council;

Appeal being made to Scottish Border Council to reverse previous decision;
Ian Aikman
Chief Planning officer
Please ask for:
John Hiscox
Planning Ref:
13/00789/FUL
Appeal Ref:
15/00024/REF
E-Mail:
jhiscox@scotborders.gov.uk
Date:
1st October 2015
WINDY EDGE WIND FARM application is now active (correction inactive) Reference: 13/00789/FUL
please email your objections to: ped@scotborders.gov.uk
or write to: John Hiscox, Planning Officer, Council HQ, Newtown St Boswells, Melrose, Scottish Borders, TD6 0SA. Anyone can object to this, wherever you live!
Hermitage Action Group
Scottish Borders Council contacts:
Note;
Windy Edge wind farm scheme rejected
29 June 2015 BBC
From the section South Scotland
Wind turbines
Councillors have refused plans for a wind farm south of Hawick due to concerns over its landscape impact.
Infinis UK wanted to put up nine turbines in the Windy Edge project north of Hermitage Castle.
The project had attracted more than 300 letters of opposition, along with more than 100 in support of the scheme.
Planning officials recommended refusal, saying it would be "incongruous and anachronistic". Councillors voted by six to two to reject the proposals.
Supporters of the scheme claimed the turbines would have less of an impact on the landscape than forestry, and that it would help combat climate change.
Opponents believed there would be adverse visual impacts on areas like Hermitage Castle and the wider landscape.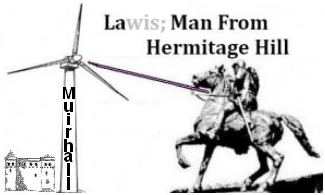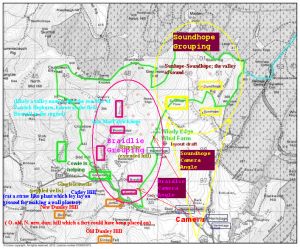 Here is an email link to voice what you think about Infinis putting wind turbines on Hermitage Castle Hill. http://www.infinis.com/contact-us/main-contacts/
Mark 10/29/2013 and 11/1/2013
Though the Elliot Clan, does not seem to know where Braidley is;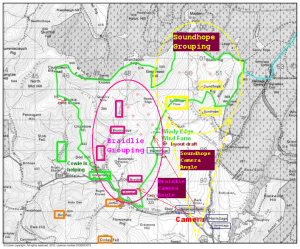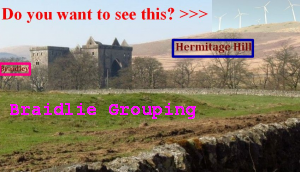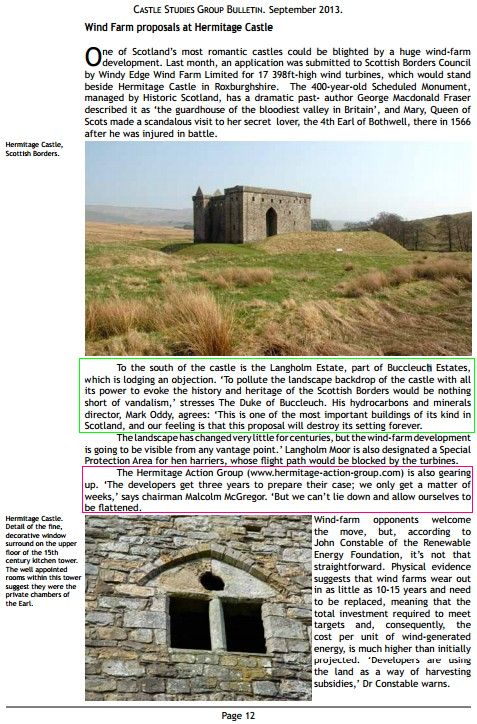 Elwald of the region in 1516;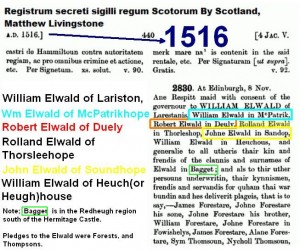 Elwald of the region in 1541;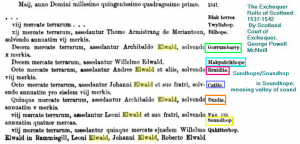 Another reference to above;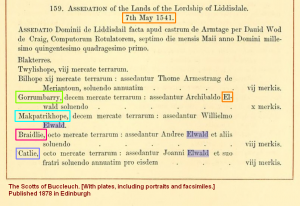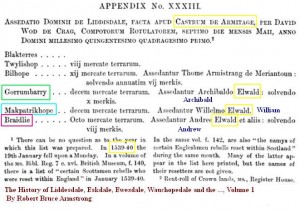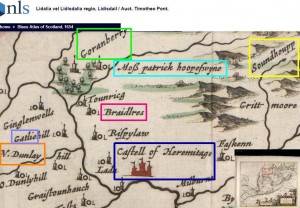 Feel that for Mosspatrickhoopswyne?; it could be a variant of MakPatrikhope/MacPatrickhope. Where "Mac Patrick" means; "son of" and "hope" means "valley". It should be noted that the land of Archibald Douglas V earl of Angus, known as; "Bell the Cat", transferred his land to Boswell, a Patrick Hepburn, and is is felt that this valley first known as MacPatrickhope was named after the son of Patrick Hepburn. It latter became known as "Broadleehope", which means; "on the leeward side the valley is broad", and by looking at contours it shows it to be such. The "Broadlee" became known as "Braidley" and this became known as "Braidleyhope", and now "Braidley Burn", the region which Infinis on Hermitage Castle hill is proposing a wind farm, which will vandalized the terrain in a manner which tourist from aboard which consider the Hermitage Castle as their ancestral homeland will not want to visit.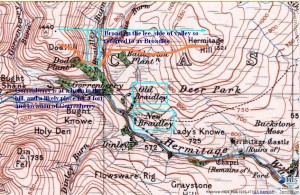 Note; on map Broadlee and a misplace but only hill recognized in region is Hermitage Hill, and that is why I feel lawis; of the hill refers to Hermitage Hill.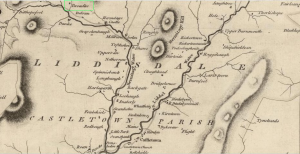 Soundhope in relation to Redheuch/Redheugh;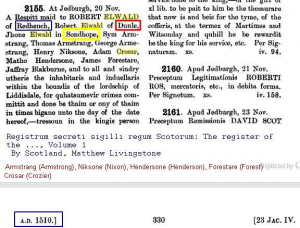 Note old form of names; Armstong, Nixon, Nenderson, Forest, and Crozier associate to Elwald (Ellot/Elliot).
It should be noted;foresta; a patch of trees; a park.
The Elliot Clan Society does not seem to recognize Martin of Braidley or the Elwald line.  To build Wind Mills on the site would be another way in which the Elliot Clan Society would not recognize Martin Ellot clan leader of Braidley or the Elwald line.
Protect the ancestral lands, ride with the Armstrong, save Goranberry/Braidley from windmills, and help bring Cowie back.
Mark Elliott   updated 6/26/2013
Remember………………………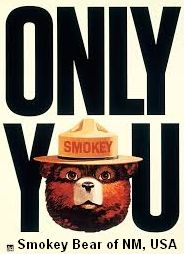 Added 9/15/2013
For letter writing to object to wind farm;
HAG-Objection letter framework -v2 10Jul2013
Will HAG supporters please remember to put their address on the email/letter of objection sent into SBC as without this your objection cannot be accepted.
Protect Hermitage Castle Petition-Sponsored by; David P Elliot author of 'Clan' the novel based in Hermitage.
Archaeology and Cultural  This is in reply to the study done;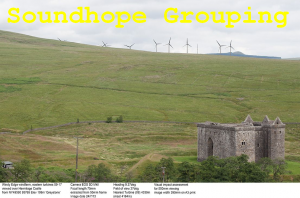 The photo supplied was of the farther away then the Braidlie Grouping; given the camera angle it was of the Soundhope Grouping
Mark Elliott 7/30/2013
Braidlie;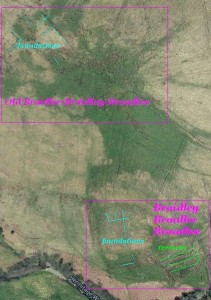 Added; 7/14/2013
Media sent by HAG, shows Elliot (Ellot/Elwald) ancestral land;
Protect the ancestral lands, ride with the Armstrong, save Goranberry/Braidley from windmills, and help bring Cowie back. YES Buck has taken part and maybe the Ker too. Dear Buck;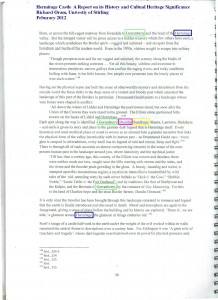 http://www.elwald.com/dear-buck-buckcleauch-edschaw-branxholm-buccleach/
Added 7/28/2013
Added 8/14/2013 Updated 9/7/2013
Heritage agency slams castle turbine scheme – The Southern Reporter
A medieval castle rated as being of national importance and which symbolises the very nature of Borderers is at risk from a proposed wind farm. So says Historic Scotland, the national government agency tasked with protecting the country's most important historical sites, when commenting on proposals to erect 17 turbines close to Hermitage Castle. The Southern has already reported concerns that if the application for a wind farm at Windy Edge from energy firm, Infinis, gets approval, then an internationally important population of breeding hen harriers could be affected. Now, as well as the objection from Historic Scotland, opposition has also come from the Royal Society for the Protection of Birds, Scottish Natural Heritage and the Scottish Rights of Way and Access Society. But it is Historic Scotland that has been most vocal in its condemnation. In its statement just lodged with Scottish Borders Council, Historic Scotland describes Hermitage as one of the least disturbed major medieval castles. Dating from the 13th century, the massive stone fortress was the seat of the wardens of the Middle March and the lords of Liddesdale, and boasted a fearsome reputation as 'the guardhouse of the bloodiest valley in Britain'. Surrounded by a well-preserved and medieval field system and farmsteads, Historic Scotland states there are very few places in the Borders where it is still possible to view a medieval castle within such a well-preserved relict landscape. "It is a symbol of the area representing the qualities of strength and resilience in which the Borderers take pride," said the agency, adding: "We have strong concerns that the proposed wind farm would have a significant adverse impact on the setting of Hermitage Castle." Malcolm McGregor, chairman of the Hermitage Action Group (HAG) campaigning against the proposals, says Historic Scotland's objection is another nail in the coffin of the turbine plan. "This is overwhelming evidence, in the view of HAG, that this misconceived application by Infinis should never have even been considered in the first place," he said. An Infinis spokesman, Chris Little, said the energy company was currently considering Historic Scotland's response. And he added: Considerations about Hermitage Castle were an important part of the design process for this project from the start." Infinis' application is now expected to come before the planning committee early next year. Added 9/13/2013 MSE
By Another Name
Do not care what Infinis calls it. It is still is; The Proposed Hermitage Hill Wind Farm.
 Infinis knows it is trampling on sacred ground by putting wind turbines on Hermitage Hill, above Hermitage Castle, so they want to call it by another name. It is because they do not want the United Kingdom to know that the wind farm is on the hill just north of Hermitage Castle.
Feel Infinis is like a brush salesman, sticking the foot into the door.  If a wind farm is on Hermitage Hill becomes a reality, then it is a roll over on the sites protected by the United Kingdom's gentry. Who will stand up for what gentry have been doing in protecting United Kingdom's antiquities over the centuries?
So Infinis does not call it The Proposed Hermitage Hill Wind Farm. If they were an honest corporation that is what it would be called.
Though tidal, and wind are sources of energy centuries old, Infinis uses wind which destroys the antiquities of the United Kingdom, in a manner of which people from the English Plantations, will not return their ancestral lands, and likely given the cost of travel will choose to travel to other  nations.
The antiquities of the United Kingdom are already depleting, so does it matter if it happens to one more?  This time it needs to be stopped at the border.
Traced my family from New Mexico to the Scotland. Family hadn't lived in Scotland for four centuries. When the family left, it seemed to be in support Buccleach, and the Armstrong Clan, which are supporting the Hermitage (note; yes they do use the name Hermitage, unlike Infinis) Action Group.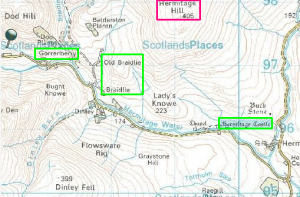 There was even an early pairing of Mark Ellot on The Hill. Got hung for stealing sheep, though.

The Hill is The Hermitage Hill, and The Proposed Hermitage Wind Farm needs to be stopped.
Mark Elliott 9/15/2013
Edited 9/17/2013
Hermitage Castle
A Report on its History and Cultural Heritage Significance
Richard Oram, University of Stirling
February 2012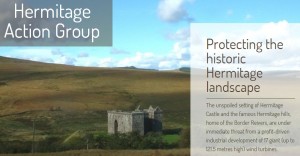 Mark Elliott    10/12/2013
 Malcolm McGregor, (Chair, HAG)                                Feb 20, 2014
I have not  yet received any feed-back concerning the recent meeting, (15
th
Jan.),  at SBC between the Infinis Windy Edge Project Team, SBC Planners, Historic Scotland and Scottish National  Heritage. Consequently I have written to Mr Hiscox the planner asking whether anything will be appearing in the public domain. I have also enquired as to whether SBC will be adhering to the determination date set out in the Process Agreement with Infinis, i.e. 31
st
March 2014.  However,  Infinis's assault on our area of the Borders continues as they submitted the Cummings Hill application 2 weeks ago. This is close to the village of Chesters and the Border crossing at Carter Bar.
So, not only is this wind developer intent upon trying to ruin our Border Reiver Cultural Heritage and the beautiful landscape of the Hermitage Water valley and Liddesdale, they are also attempting  to spoil the most iconic road route into Scotland and the surrounding landscape. The attached photomontage has been produced by the same landscape photographer that HAG has used and shows you the potential view of the Infinis wind turbines on Cummings Hill, from Carter Bar, —– not a great advert for future tourism. Moreover, this stunning area was designated by SBC in 2012 as a 'Special Landscape Area'.
HAG has presently over 300 objections on the SBC Windy Edge web-site. We have received tremendous support from Philip Kerr, Chair of the Chesters Wind Farm Action Group and the members of this group.  PLEASE now help us reciprocate and write an objection in to SBC on their behalf. The details are below. If you require more detailed info., then just contact me.
Remember to include your name, address and the date on your objection, as well as the planning details below. Also please send your objection in by 
7
th
March
.
 Email to prs@scotborders.gov.uk  or post to PRS, SBC Headquarters, Newtown St Boswells, Melrose, TD6 0SA:
Planning Reference Number 

14/00083/FUL
Wind Farm Development of 7 x 126.5m (415ft) turbines on Cummings Hill, Chesters, near to Carter Bar.
Support Notes:
1) The SBC Local Plan, (under consultation), suggests that the location of the proposed development is a landscape with NO capacity for turbines above 25m.
2) Local residents' quality of life will be adversely affected, in the short term by the huge increase of traffic on rural roads, (over 28,000 vehicle movements), in the construction period, also in the long term by consistent background noise and visual disturbance.
3) The development will have a hugely detrimental impact on the iconic view into Scotland from the Carter Bar, where people cross the Border. Arguably, this is the visually most scenic of all the Border crossings,
4) It will also impact on the view from other historical locations such as Ruberslaw, Bonchester Hill fort, and the development will be adjacent to Kilnsike Tower.
5) There will be a wide ranging environmental impact upon the key features of the Teviot Valley Special Landscape Area: loss of peat, impact upon local flora as well as a huge range of species of wildlife.
6) A specific local concern is the removal of 140m of mature beech trees to make an access road so Infinis can get in their abnormal loads.
7) Because a wide range of rural recreational activities will be affected – walking, cycling, horse riding, bird watching etc.. the key local economy asset of tourism will be seriously degraded.
THANKYOU in anticipation for your support.
Malcolm McGregor, (Chair, HAG)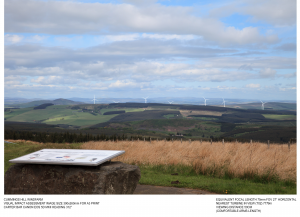 Wind Farm Development of 7 x 126.5m (415ft) turbines on Cummings Hill, Chesters, near to Carter Bar.
MSE   2/21/2014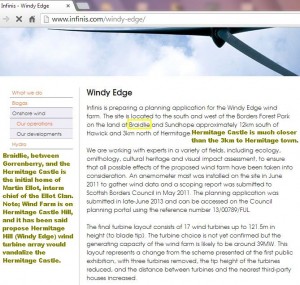 Martin had names Elwood, and Elliot also. It is felt that the Elwood in Ulster came from the Martin Elwood family.
2/22/2014  MSE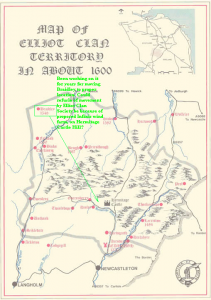 Link to Elliot Clan Society map;
http://www.elliotclan.com/history/map-of-elliot-territory/
Been trying for years to get Braidley located by the Elliot Clan Society it's proper location between Gorrenberry and The Hermitage Castle. Now that I am riding with the Armstrongs, and Buck (Buccleauch), it is felt I found the answer why the Elliot Clan Society is not willing to move Martin's Braidley to it's proper locality.
Though the Elliot Clan say Braidley is in Treviodale,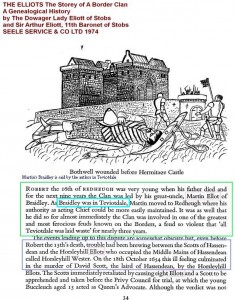 it is in Liddesdale, near Gorrenberry;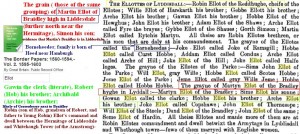 Martin's Braidley is high (north) in Liddesdale on land from the Armstrong's Whitehaugh Tower north to the Hermitage (Armytage) Castle.
The reason The Elliot Clan Society does not want to support moving Braidley to the locality it should be located at because they support the propose INFINIS wind farm which will vandalize the Hermitage Castle.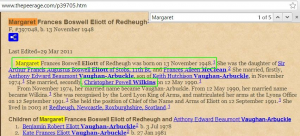 Christopher Powell Wilkins is the husband to the clan chief.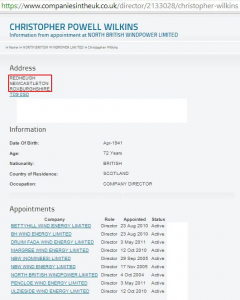 As one can see he has an Redheugh, Newcastleton, Roxburghshire, plus a lot of connections to many a wind farm company.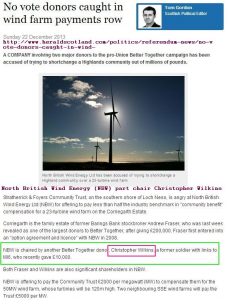 One can see he has links to MI6 and likely a knowledge of covert activities.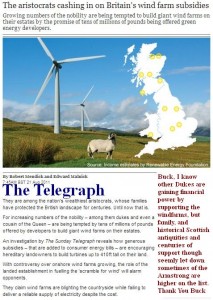 One can see also that a lot of aristocracy a putting money, and may be more power from that money a head of land protection. It should be noted that the Buccleuch family has been providing and today in going up against the Infinis proposed wind farm on Hermitage Castle Hill are still providing protection for the Hermitage Castle and it's surrounding, so people like myself who may want to visit Scotland their family homeland from across the sea will not have there homeland desecrated by electric power wind turbines.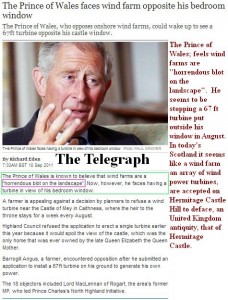 It should be noted that even the Prince of Wales, does not want to have a small wind turbine near him in the month of August.
MSE    4/29/2014
Some thoughts;
Previous to Robert of Redheugh becoming infeft; a landholder; Buccleuch took stewardardship, of the Armstrong land of Mangerton; which Redheugh was part of. That is why the Armstrong were not there when Robert of Redheugh was infeft. William Elwald of Gorrenberry was there when Robert became infeft. Land north of Redheugh (of the forest a region called Schawis), and west of Hermitage (of the hill Lawis), the William of Gorrenberry family is my family, which became of Horsliehill.
Maggie daughter of Arthur Eliott, of Stobs and Redheugh, was of the Gilbert Ellot line. Gilbert was born of Redheugh, but ended up as stepson of Gavin of Baillee and Stobs, and his wife a Jean Scot.
It is said that Gilbert was married to a Scot. Jean Scot wife first of Robert of Redheugh then the second wife of Gavin of Stobs. There is a chance since Gilbert is not a Redheugh name, a name from the region I refer to as Schawis between the Hermitage and Redheugh, in a region of The Barony of Cavers, like Braidley of between Gorrenberry and Hermitage Castle, that he may be the biological son of Gavin of Stobs.
Gilbert being not of the first child of Redheugh, and much lower in the line would not have been next in line to be the clan chief. It is felt that being strongly tied to the Buccleuch, line which was starting about the same time that Buccleuch and the Gilbert line had it's start. With Gilbert not being of the first son of Redheugh, he need some tutoring. The Gorrenberry/Horsleyhill line was well tutored among the family, and many became Baillees of Shelkirk, so they are recorded in giving tutoring to Gilbert and his oldest William.
Gilbert rode with the Buccleuch Scots during what is known as the Ellot/Scot fued towards the end of the seventeenth century, and my family of Gorrenberry rode with Martin Ellot of Braidley next to Gorrenberry. To the Ulster Plantation Ellot and Armstrong would not utilize the names Gilbert or Walter.
The resettled Ellot of Ulster are not of gentry, like the Gilbert line, more like the notorious thief of Liddesdale; Clementis Hob, or likely the Cowie of Gorrenberry. We were not exactly liked by the Gilbert line. It is unlikely that the Gilbert line would use the names Martin and Andrew. This may be why the Gilbert line does not locate Braidley of Martin Ellot, between Goranberry, and the Hermitage Castle, and the Gilbert line also does not seem to recognize the people of Gorrenberry.
It should be noted that Gilbert line which is now of the chief line of the Elliot Clan. The Armstrong Clan has no chief. This is felt because of a difference in Norman and Scandinavian characteristics. One philosophy, is one of expertise, or a given strata level within a social structure, the other is a pitch in philosophy where the collective would end up with the best response. One is more gentry the other more reiver. It is up to the reader to figure out which is which.
For a reiver society with individual self directives to exist, it seem that the reiver when need will utilize individuals to deal with a stratified society such as a corporate society which is trying to intrude with wind farms, so the reivers are dependent on land stewardship, it may also be an example of governments securing land for particular groups. If this stewardship is secure then the reivers will support the one securing the land, which they share.
The Hermitage Castle Hill Infinis wind farm will affect the economy of Newcastleton and Hawick. Hawick more than those of The Hermitage Action Group seem to make their voices heard as being opposed to the Hermitage Hill Wind Farm (no manner what Infinis calls it).
Economically, Hawick is more dependent on not having wind mills on Hemitage Hill then any other community, and any money they may receive from Infinis is a payoff.
It should be noted that across the Scottish Boarder it seems that the Kerr, Scott, Hume, Rutherford, and Armstrong are beginning to work together to get this Hermitage Castle Hill wind farm stopped, and want to thank them in protecting a historical antiquity on the border, which is the symbolic homeland of the ancestral homeland of there ancestors which in some cases were resettled throughout the world.
To put a wind farm on Hermitage Castle Hill, would be telling these resettled boarder descendants they are no longer welcome in their Scottish homeland. These people are of great numbers throughout the world.
Mark Elliott     6/1/2014